Scientology's Alleged Plan For Dealing With Media In Wake Of Tom Cruise Divorce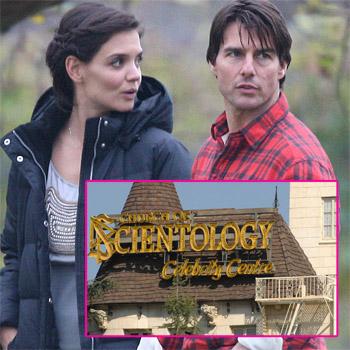 By Jen Heger - Radar Assistant Managing Editor
Former high ranking Scientologist Marty Rathbun, has obtained an email allegedly involving two prominent church members which reveals the controversial organization's plan on dealing with the media in the wake of Katie Holmes filing for divorce from Tom Cruise — and RadarOnline.com has all the details.
Rathbun claims on his website that the email was sent from an Office of Special Affairs member to a fellow high-ranking Scientologist and the subject line says: "Simple hatting sic on how to fight back on the internet and Stand Up For Your Religion."
Article continues below advertisement
According to Rathbun, the OSA faction of the church is the "dirty tricks and propoganda arm of Scientology."
The email, which is posted on Rathbun's website, was allegedly sent on July 5, and says: "I am not a big fan of media, but you may have glanced the news of the split between TC and Holmes and all the speculations around. While this is a personal matter, when people start to bring our religion into the middle and a bunch of uninformed people start to spread false datum, rumors and defame our religion it became a matter that does affect my Dynamics and I believe that affects yours as well. Well, I am not somebody that I am going to simply stand and watch a bunch of uninformed people putting my religion under the carpet. So here is a simple hatting on how you can causative fight back and at the same time stand up and defend our religion on the internet."
The email directs the recipient on how to report negative comments about the church on websites, with the hope of getting them removed. "Microsoft or Google or any of these big online company require that each person, when they create an account with them, follow a Code of Conduct when they are on the internet. If there are abuse of such Code of Conduct, those website do actually invite you to report the matter to the Moderator — in other word, write the matter to Ethics. These is where things can be turn around!," the email states.
Article continues below advertisement
As previously reported, Tom Cruise's longtime attorney, Bert Fields, blasted Holmes' camp on Thursday for allegedly leaking negative stories about the actor, and told the BBC.  "We are letting 'the other side' (Katie and her team), play the media until they wear everyone out and then we'll have something to say."
Holmes has filed for sole custody of their daughter, Suri. The couple was married for just under five-and-a-half years.
A spokesperson with the Church issued the following statement to Radar:
"I have seen your posting 'Scientology's Alleged Plan For Dealing With Media In Wake Of Tom Cruise Divorce.' Your source is inaccurate. An email from a Scientologist is no more from the Church of Scientology than a email from a Catholic is from the Vatican. This did not come from the Church or anyone associated with the Church, nor is it a Church plan. The Church of Scientology International Office of Special Affairs office is responsible for public affairs and calling it a "dirty tricks" and "propaganda arm" is offensive. Marty Rathbun is a defrocked apostate removed from any position in the Church for maelfeasance nearly eight years ago and has no firsthand knowledge of its activities."