Adam Sandler's Jack and Jill Dominates Razzie Awards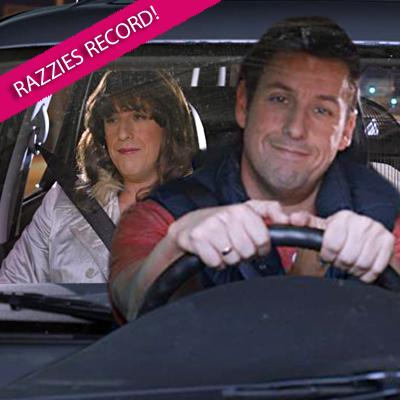 Adam Sandler's comedy Jack & Jill Sunday accomplished a dubious feat at Sunday's 32nd Razzies, an award show commemorating the year's worst in film, as the comedy won a record-ten of the dozen Razzies it was nominated for at the ceremony at Santa Monica's Magicopolis.
With ten awards, Jack & Jill bested the previous record-holder -- Lindsay Lohan's 2007 dud I Know Who Killed Me -- by two.
Article continues below advertisement
In the film, the SNL alum shared the screen with Al Pacino, Katie Holmes and David Spade.
Jack & Jill claimed the "honors," if you can call them that, for the year's worst picture, actor, actress, supporting actress (Spade, who played a female), supporting actor (Pacino), screen ensemble, director (Dennis Dugan), remake/rip-off and screen couple (Sandler and Holmes).
Other films skewered at the annual event were Bucky Larson: Born to Be a Star, New Year's Eve, Transformers: Dark of the Moon and The Twilight Saga: Breaking Dawn, Part 1.
Fun fact: The film did mark the silver screen comeback of Dana Carvey, who hadn't appeared in a movie since 2002's The Master of Disguise.
For more on the Razzies, check out the show's website.
RELATED STORIES: