Tom Cruise Going To Court To Seek Temporary Visitation Of Daughter Suri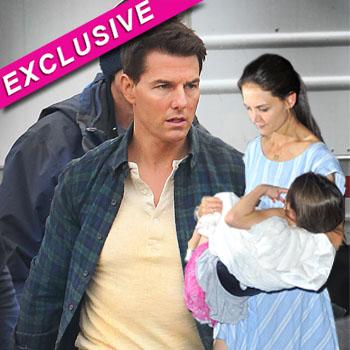 By Jen Heger - Radar Assistant Managing Editor
Tom Cruise hunkered down on the 4th of July to strategize how to proceed after his estranged wife, Katie Holmes, filed for divorce, but he has made getting temporary visitation of their 6-year-old daughter, Suri, his main priority, and he intends to go to court in Los Angeles and make the plea in person, RadarOnline.com is exclusively reporting.
As we previously reported, Cruise had planned to spend his 50th birthday on Tuesday with his wife and daughter in Iceland where he was shooting a movie. Instead, the actor flew back to Beverly Hills where he was joined by his older children with Nicole Kidman, Bella and Connor, at what can only be described as a somber gathering.
Article continues below advertisement
Holmes filed for divorce in New York City, and a source close to the situation tells us "the first move his Los Angeles-based divorce lawyer Dennis Wasser has advised him to do is file for divorce in California. This will most likely happen by the end of the week.
"Tom has told Dennis and Bert Fields, his long-time entertainment lawyer, that his first priority is getting a court order in place, obviously a temporary one, that will allow him to legally see his daughter. Team Cruise has extensive documentation to prove that Los Angeles is where the case should proceed, because this is where he says they have lived. Tom is extremely disappointed that Katie filed in New York, and he feels that she is trying to cut him out of their daughter's life. Tom won't tolerate it and told his lawyers that if he personally needs to go to court and make a plea in front of the judge for an order allowing him to see his daughter, he will. Suri knew it was his birthday on Tuesday, and she said she had made a card for him and made him a gift, and it just tore at his heart," the source added. 
The custody proceedings in Los Angeles are closed to the public, including the press because of child protection laws. "Tom has faith in his lawyers, and the legal system. Tom is also discussing the possibility of pursuing full legal custody of Suri. Tom could make a very strong case because he raised his two adopted children, Bella, and Connor with Nicole Kidman. Tom was their main custodial parent. Tom is just at a loss as to why Katie would go to such extreme measures when she decided to file for divorce. Tom's lawyer will also request an order that Suri return to Los Angeles as soon as possible, and that she can't travel out of the state without each parent's prior approval," the insider says.
Article continues below advertisement
Cruise will legally be required to file a response in the New York City divorce filing, and he "will ask that the case be dismissed because the Big Apple doesn't have the legal jurisdiction or legal standing for the case to proceed because neither of the actors met the residency requirement. Make no mistake, this case will be heard in California. There will be some legal wrangling, but ultimately, it's going to go through the courts on the West Coast," the source said.
Meanwhile, in New York City, "Katie is enjoying just not feeling so controlled by Tom and his handlers. Katie will do whatever her lawyers tell her, of course. She has faith in them and is relying on her lawyer/father, Martin. Katie wants Suri to have a structure and routines, something she was never able to establish when she was with Tom," another source reveals.
Katie's New York lawyers are also in contact with top divorce attorney's in SoCal in anticipation of Cruise filing in the Golden State.