Exclusive
John Travolta Sex Scandal: Anonymous Email To Atlanta Resort Could Help The Actor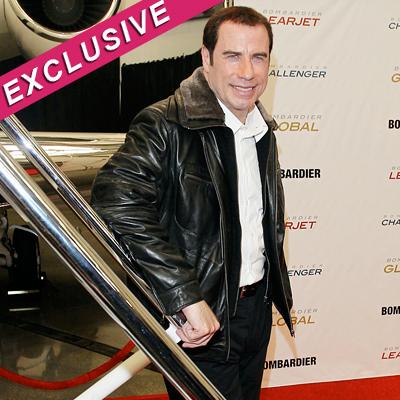 Article continues below advertisement
"After the incident that I heard about this evening that occurred I felt the need to contact someone in upper management hoping that something will be done so that we will not lose him. If I heard about this incident from others, you should be worried about who else knows about this.
"The incident that I am referring to is that he was asked to massage a celebrity client that was inappropriate. This was a male celebrity client that caused him to report to management about these inappropriate acts. Today he was asked to massage this same celebrity client. My question to the employee that told me about this was why would they put in back into that situation.
Article continues below advertisement
"As I witness him leave, he was his usual professional, friendly person as he is but you could tell something was weighing heavy on him. Because I only have a professional relationship, I felt that it may not be appropriate to ask what was wrong. I don't have any doubt if this happen to a female this company would not put her back into that situation."
The email does contain spelling errors that haven't been edited out by RadarOnline.com. Interestingly, the sender refers to the masseur as John Doe, almost two months before he filed the lawsuit under that alias.
However, in the lawsuit filed by John Doe #2's attorney, Okorie Okorocha, he stated the alleged incident took place on January 28, 2012, a month before this email was sent to the masseur's bosses. Okorocha confirms that the email "absolutely refers to what John Travolta did to my client, but I can't explain the mix-up of the dates, the person must have been wrong."
Okorocha also says his client only massaged Travolta in January, and wasn't asked to do so in February 2012, or any time thereafter.
Article continues below advertisement
Second Male Masseur Files $2M Sexual Battery Lawsuit Against John Travolta
"I hope this email reaches someone that can help him. Because if this is happening to me on a regular I would seek legal action against the hotel. If I don't see any changes in these matters, I will take upon myself and leave him a note with lawyers he can contact. Do something now or you will pay later? Sexual harassment by employee and/or guest is against the law and should be not tolerated by *** Hotels," the unknown sender says.
The general manager of the hotel responded to the anonymous email on February 24, 2012 writing, "Thank you for bringing this to my attention. I wish to assure you that I will personally be following up on this matter. If you would like to discuss this directly, my direct phone number is 404-995-**** and my mobile 770-881-****."
John Travolta Sex Accuser 'John Doe' Says He Has Proof Of Affair
The general manager has since left the Atlanta hotel -- which RadarOnline.com is not disclosing to protect the identity of the alleged victim -- and isn't answering his cell phone.
Article continues below advertisement
The supposed employee responds with gratitude, and says in what appears to be the final email communication on Sunday, February 26, 2012:
"Thank you Mr. *** for responding to my email. I will trust you that you will take care of this situation. No one should be forced to work on a client that has been inappropriate and no one male or female should have to deal with an employee making inappropriate and/or sexual comments when they are not invited.
"John has inspired me as well as others do better because of his positivity in an environment where negativity has been the norm. He has truly been an asset to our team. I was excited to learn he would be in management but not surprised when he stepped down. The problem was that people did not want to change or held accountable for what they were hired to do: a job.
"You as well as *** Hotel should recognize the blessing this individual is to our environment. Thank you for the opportunity to speak with you but I will decline and trust your words that you will look into these situations. I just hope you don't pass it down to management and nothing is done.
Article continues below advertisement
"Thank you again for your time, I recognize how precious it is and how busy you are. Thank you again."
While the email appears to point to some sexual harassment, it also pokes major holes in John Doe #2's timeline, and it's not the first time in the Travolta sex scandal that this has happened.
John Doe #1 claimed John sexually assaulted him in Los Angeles on January 16, 2012 but John's attorney not only denied the charges, he also provided proof that his client was in New York on the day the assault allegedly took place.
John Doe #1 has subsequently claimed that his original date was a "miscalculation" and that the alleged assault actually took place a few days earlier.
John Travolta Sexual Battery Accuser Afraid But Ready To Go To Trial
Okorocha formally had the first accuser's lawsuit dismissed, and John Doe #1 is now being represented by famed civil rights attorney Gloria Allred.
"I represent John Doe #1. Mr. Doe's lawsuit was dismissed without prejudice which means that he is still legally entitled to file another lawsuit against John Travolta if he chooses. We are in the process of conferring with him regarding the next steps, which he may wish to take. Our client and our firm has no further comment at this time," Allred told RadarOnline.com.
Article continues below advertisement