Exclusive
John Travolta Being Sued By Male Masseur For Sexual Battery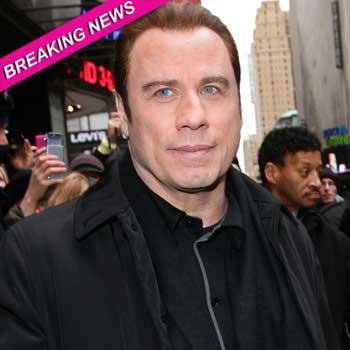 Article continues below advertisement
DOCUMENTS: Read The Sexual Battery Lawsuit Filed Against John Travolta
According to the documents, the massage began in a bungalow at the famed hotel, and "Travolta appeared to be semi-erect." The lawsuit goes on to claim that a chef brought in hamburgers during the massage and Travolta "touched Plaintiff's scrotum, and this time the Plaintiff told Travolta to please not touch him again." The lawsuit states that the actor promised not to, but "Travolta quickly tried to rub the head of Plaintiff's penis as he tried to pull away."
Travolta's rep tells RadarOnline.com: "This lawsuit is a complete fiction and fabrication. None of the events claimed in the suit ever occurred. The plaintiff, who refuses to give their name, knows that the suit is a baseless lie. It is for that reason that the plaintiff hasn't been identified with a name even though it is required to do so. On the date when plaintiff claims John met him, John was not in California and it can be proved that he was on the East Coast. Plaintiff's attorney has filed this suit to try and get his 15 minutes of fame. John intends to get this case thrown out and then he will sue the attorney and Plaintiff for malicious prosecution."
Article continues below advertisement
The lawsuit then alleges that Travolta "started to apologize for his behavior and tried to imply that they 'must have gotten our signals crossed,' and that he thought the Plaintiff wanted 'the same thing he did,'" the documents state. "Plaintiff explained that he did not ever have sex with his clients and that expecting sexual situations when people are providing paid services was essentially prostitution. Travolta tried to act like it was a simple misunderstanding..Plaintiff told Travolta that a masseur lying on the table was unlawful and inappropriate. Travolta said, 'come on dude, I'll jerk you off!!!'"
MORE ON:
Celebrity Justice
The masseuse tried to complete the deep tissue massage, but the lawsuit alleges, "Travolta, had removed his draping and was masturbating. Travolta's penis was fully erect, and was roughly 8 inches in length, and his pubic hair was wirey and unkempt. Sweat was pouring down Travolta's neck, and he asked Plaintiff again to say something nice to him"
The documents state that Travolta said there was a Hollywood actress staying at the hotel that "wanted three way sex, and wanted to be double penetrated. Travolta said they could have that later, but first they needed to have sex together before calling her, so this way they would be in-sync with each other sexually. Travolta told Plaintiff that he had Hollywood looks but just needed to lose some weight and learn to kick some ass and then Plaintiff would be ready to make millions."
Article continues below advertisement
After threatening to call the cops, the masseur alleges he was dropped off where Travolta had picked him up, and the actor called him "selfish" and a "loser." Travolta gave the masseur $800, double what he was owed.
The masseur is seeking at least $2 million dollars in damages, and wants a jury trial.
Travolta is married to actress, Kelly Preston.
Story developing...
RELATED STORIES:
John Travolta Can't Stop Smiling With Adorable Baby Benjamin