Exclusive
Second Male Masseur Files $2M Sexual Battery Lawsuit Against John Travolta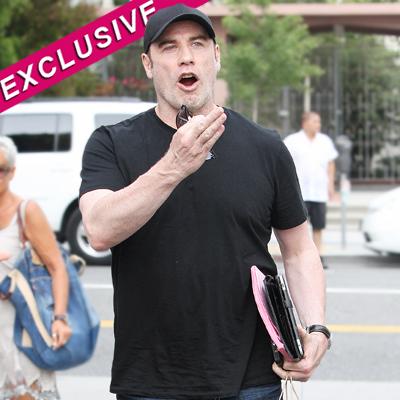 By Jen Heger - RadarOnline.com Assistant Managing Editor
WARNING: THIS STORY CONTAINS EXPLICIT CONTENT
A second accuser -- another male masseur -- filed a $2 million sexual battery lawsuit against John Travolta Tuesday morning and claims to have "substantial documentation and numerous witnesses regarding the substance of Travolta's actions," according to the docs, RadarOnline.com is exclusively reporting.
The second alleged victim is also being represented by the same lawyer as the first accuser, and in the amended complaint, both are now suing Travolta for sexual harassment as well.
Article continues below advertisement
EXCLUSIVE DOCUMENTS: Read The Amended Complaint Filed Against John Travolta
As we previously reported, Travolta is being sued by an unidentified male masseur for assault, sexual battery and intentional infliction of emotional distress. According to the lawsuit, the masseur tried to carry out a deep tissue massage, but "Travolta, had removed his draping and was masturbating. Travolta's penis was fully erect, and was roughly 8 inches in length, and his pubic hair was wirey and unkempt. Sweat was pouring down Travolta's neck, and he asked Plaintiff again to say something nice to him."
Travolta's rep vehemently denied the initial sexual battery lawsuit that was filed on Monday and said in a statement, "This lawsuit is a complete fiction and fabrication. None of the events claimed in the suit ever occurred. The plaintiff, who refuses to give their name, knows that the suit is a baseless lie. It is for that reason that the plaintiff hasn't been identified with a name, even though it is required to do so. On the date when plaintiff claims John met him, John was not in California, and it can be proved that he was on the East Coast. Plaintiff's attorney has filed this suit to try and get his 15 minutes of fame. John intends to get this case thrown out, and then he will sue the attorney and Plaintiff for malicious prosecution."
Article continues below advertisement
The unidentified male masseur is being repped by the same attorney who filed the initial sexual battery lawsuit against the Oscar nominated actor. According to the lawsuit, which was filed Tuesday morning in Federal Court in Los Angeles, the second victim alleges that while working at an unspecified resort in Atlanta, Georgia on January 28, 2012, he did an in-room massage on Travolta. According to the docs, Travolta was staying on the 15th floor of the upscale resort, and he was referred to as Mr. White. The Plaintiff doesn't normally do in-room massages and asked a co-worker to take the assignment, but he declined because "Travolta has been banned from a spa that the coworker used to work at in Los Angeles."
On the morning of the massage Travolta had "a strange demeanor, bloodshot eyes and climbed onto the already setup massage table...Travolta removed the entire sheet from his body, and he claimed the sheets were sticky and could not tolerate the heat...Travolta further indicated that he likes a lot of "Glutes" work meaning a massage on his buttocks...While he was massaging near Travolta's buttocks area, Travolta would open his legs and spread his butt cheeks open and had a full erection and would maneuver in a way to try to force Doe Plaintiff No. 2 to touch his anus and around his anus."
Article continues below advertisement
As the massage came to an end "Travolta suddenly turned on his stomach with his legs wide open with a full erection. He then tried to force Doe Plaintiff No. 2's hand on Travolta's scrotum. Then, Travolta started to grab, rub and caress Doe Plaintiff no. 2's upper thighs and buttocks....Travolta still had an erection and wanted his abdominals done, but Travolta's erection was in the way and he refused to have his penis covered by a sheet of a pillow case cover...Travolta started masturbating about 15 minutes left in the session, and Doe Plaintiff No.2, said he had to go," the docs state.
The masseur "complained to all of his supervisors and many coworkers to no avail." Travolta allegedly went down "to the spa that Plaintiff No. 2 worked at, which is part of the resort Travolta was staying at, as opposed to having Doe Plaintiff No. 2 go to his room. Travolta DEMANDED that Doe Plaintiff No. 2 come back and do it again, and he refused," the lawsuit asserts.
According to Access Atlanta, Travolta was spotted eating dinner at The Palm restaurant in the swanky enclave of Atlanta, Buckhead aroound January 25 2012, and he was in town filming the movie Killing Season with Robert De Niro in Georgia.
Article continues below advertisement
Travolta's pit-bull attorney, Marty Singer, told us on Monday, that "The problem in America is anyone can sue anyone. However, in this case this unidentified plaintiff and his lawyer will regret they filed this fabricated suit. We intend to sue both of them for malicious prosecution."
DOCUMENTS: Read The Sexual Battery Lawsuit Filed Against John Travolta
Singer, who was recently named as the top entertainment lawyer of the year by the Beverly Hills Bar Association, says unequivocally that he can prove Travolta was on the east coast when the masseur alleges the sexual battery took place in a Beverly Hills hotel. "My client was on the east coast," Singer told RadarOnline.com, referring to the lawsuit's key date of January 16, 2012.
Travolta has been married to actress Kelly Preston since 1991. The couple's oldest child, Jett, died in 2009. The couple have two other children, daughter, Ella Bleu, and their toddler son, Benjamin, born in 2010.
Read The Documents Here. (Warning Explicit Language)
The alleged second victim is also seeking $2 million dollars in damages and a jury trial, and Okorcha maintains that both clients are ready to face off against Travolta in court.