Everyone Knows John Travolta Is Gay, Says Carrie Fisher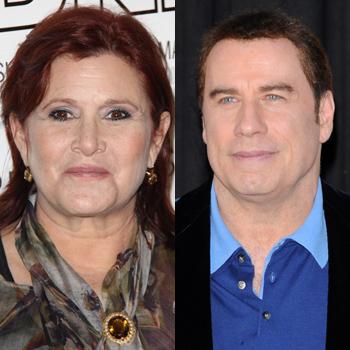 In comments unusually candid for a celebrity discussing another star, Carrie Fisher dropped a bombshell in a new interview, saying that everyone knows John Travolta is gay.
Travolta has been followed by gay rumors and reports since the late 1980s. He has always denied them and has enlisted his legal team to help squelch them.
But Fisher, speaking to the Advocate, showed no fear in addressing the topic.
Article continues below advertisement
The interviewer asked: "I know you and Travolta go way back, so let's get really blunt here: Does his (Travolta's) legal team have any business demanding Gawker remove a recent post suggesting that he's given (bleep) jobs?"
Fisher answered: "Wow! I mean, my feeling about John has always been that we know and we don't care. Look, I'm sorry that he's uncomfortable with it, and that's all I can say. It only draws more attention to it when you make that kind of legal fuss. Just leave it be."
The Advocate also notes that in 2009 Fisher gave this statement for a piece about 10 Things gay men should know about women: "We don't really care that John Travolta is gay."
Travolta was first publicly called gay by porn star Paul Barresi who gave a tell-all interview about an alleged gay relationship with Travolta in the 1980s. He later recanted that story and subsequently said the story was true. Other men have come forward alleging sexual contact with John, who recently became a father again with wife Kelly Preston giving birth to son Benjamin.
Article continues below advertisement
The actor has raised eyebrows with his behavior, including kissing male staff members on the lips. But beyond that there have been consistent and numerous allegations by men who say the actor either pursued them sexually or indulged in gay sexual acts.
A new book has drawn heavy fire from Travolta's legal team as the author alleges to have direct knowledge of Travolta leading a secret gay life.