Exclusive
Lawyer: More John Travolta Sex Accusers Coming Forward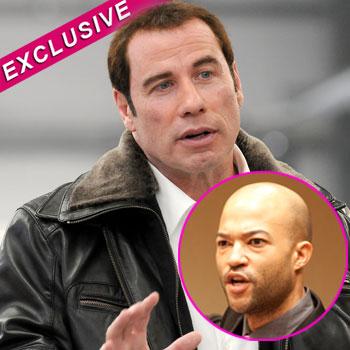 Article continues below advertisement
However, Okorie Okorocha, the legal ace attorney repping the unidentified masseurs, says that he thinks Travolta's denials are not to be believed. "By the time this case is over Marty Singer will have to accuse more than 100 men of lying because I have been contacted by people, mostly men, that have first hand information about similar behavior on John Travolta's part to that contained in the lawsuits I have already filed against him," Okorocha tells RadarOnline.com exclusively. "I have witnesses and the potential for more accusers in virtually every state of the union who have called me. I'm currently in the process of investigating their claims and verifying the information before possible further action is taken."
On Tuesday, the second masseur filed a lawsuit against Travolta alleging that while working at an unspecified resort in Atlanta, Georgia on January 28, 2012, he performed an in-room massage on the actor. According to the documents, Travolta was staying on the 15th floor of the upscale resort and he was referred to as Mr. White. The lawsuit claims that the plaintiff doesn't normally do in-room massages and asked a co-worker to take the assignment, but he declined because "Travolta has been banned from a spa that the coworker used to work at in Los Angeles."
Article continues below advertisement
The lawsuit goes on to claim that on the morning of the massage Travolta had "a strange demeanor, bloodshot eyes and climbed onto the already setup massage table...Travolta removed the entire sheet from his body and he claimed the sheets were sticky and could not tolerate the heat...Travolta further indicated that he likes a lot of 'Glutes' work, meaning a massage on his buttocks...While he was massaging near Travolta's buttocks area, Travolta would open his legs and spread his butt cheeks open and had a full erection and would maneuver in a way to try to force Doe Plaintiff No. 2 to touch his anus and around his anus."
As the massage came to an end, the Plaintiff alleges, "Travolta suddenly turned on his stomach with his legs wide open with a full erection. He then tried to force Doe Plaintiff No. 2's hand on Travolta's scrotum. Then, Travolta started to grab, rub and caress Doe Plaintiff no. 2's upper thighs and buttocks....Travolta still had an erection and wanted his abdominals done, but Travolta's erection was in the way, and he refused to have his penis covered by a sheet of a pillow case cover...Travolta started masturbating about 15 minutes left in the session, and Doe Plaintiff No.2, said he had to go."
Article continues below advertisement
The lawsuit claims that the masseur "complained to all of his supervisors and many coworkers to no avail." Travolta then allegedly "went down to the spa that Plaintiff No. 2 worked at, which is part of the resort Travolta was staying at, as opposed to having Doe Plaintiff No. 2 go to his room. Travolta DEMANDED that Doe Plaintiff No. 2 come back and do it again, and he refused."
Marty Singer told RadarOnline.com on Monday after the first lawsuit was filed, "The problem in America is anyone can sue anyone. However, in this case this unidentified plaintiff and his lawyer will regret they filed this fabricated suit. We intend to sue both of them for malicious prosecution."
Meanwhile, Okorocha is standing by his clients and says, "If Marty Singer thinks he can sue me on the validity of Mr. Travolta's denials, and if he wants to file the lawsuit now, I will give him a waiver allowing him to proceed with it at this stage of the case, even though under California law he has to wait until he wins the case, and that absolutely won't be happening. It will never happen, he won't win, so we might as well get it over with now. Bring it on."
Article continues below advertisement