Exclusive
John Travolta Second Sexual Assault Accuser Documented Alleged Attack In Emails To Bosses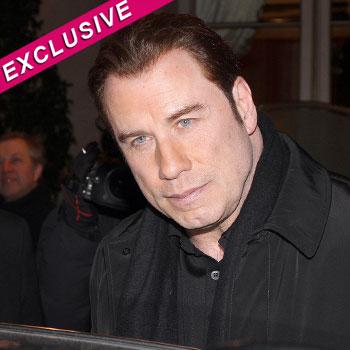 Article continues below advertisement
As we previously reported, a second masseur has filed a sexual battery and assault lawsuit against the Grease star, alleging that while working at a five star hotel in Atlanta, he went to Travolta's room to perform an in-room massage. As the massage came to an end, the lawsuit claims: "Travolta suddenly turned on his stomach with his legs wide open with a full erection. He then tried to force Doe Plaintiff No. 2's hand on Travolta's scrotum. Then, Travolta started to grab, rub and caress Doe Plaintiff no. 2's upper thighs and buttocks....Travolta still had an erection and wanted his abdominals done, but Travolta's erection was in the way, and he refused to have his penis covered by a sheet of a pillow case cover...Travolta started masturbating about 15 minutes left in the session, and Doe Plaintiff No.2, said he had to go."
Travolta's high powered attorney, Marty Singer, has vehemently denied both alleged assaults, and has branded the men as liars.
Okorie Okorocha, the lawyer representing both of the men, tells RadarOnline.com exclusively: "The day this happened, my client notified his superiors and management at the hotel about what had happened to him while he was in John Travolta's hotel room. There are MULTIPLE e-mails to document this, which will obviously be a big part of our case as we proceed. The fact that he sent these e-mails on the day this occurred will only bolster our case. My client also spoke with multiple members of management at the hotel, so there are many witnesses that will be called as well. Obviously, my client had never had anything like this happen to him before and he was extremely shaken up. He is still working at the resort though and wants to keep his job."
Article continues below advertisement
According to John Doe #2's lawsuit, following the alleged attack Travolta went down to the resort's spa and demanded the alleged victim return to his room.
"Travolta went down to the spa that Plaintiff No. 2 worked at, which is part of the resort Travolta was staying at, as opposed to having Doe Plaintiff No. 2 go to his room. Travolta DEMANDED that Doe Plaintiff No. 2 come back and do it again and he refused," the documents state.
Okorocha asserts: "The employee that dealt with Travolta when he came down to the spa looking for my client will also be a material witness in the case."
At the time of the alleged attack, Travolta was in Atlanta shooting a movie with Robert De Niro.
The actor has been married to actress Kelly Preston since 1991. The couple's oldest child, Jett, died in 2009. The couple have two other children, daughter, Ella Bleu, and their toddler son, Benjamin, born in 2010.
Article continues below advertisement