Exclusive
John Travolta's Attorney Says He Has Flight & Hotel Records Proving Actor Wasn't In LA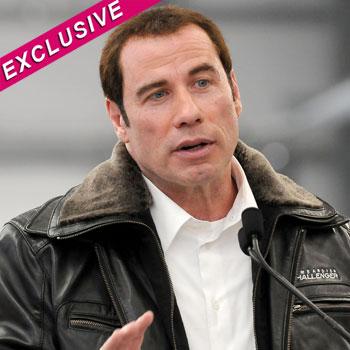 By Amber Goodhand - RadarOnline.com News Editor
The first masseur who says John Travolta sexually harassed him claims to have proof to back up his January 16 allegation, but RadarOnline.com has exclusively learned the Hairspray star's attorney is countering with proof of their own that he wasn't in the same state at the time.
Two unidentified masseurs have stepped forward with lawsuits against Travolta, claiming charges of assault, sexual battery and intentional infliction of emotional distress — the first of which alleges the incident occurred at the Beverly Hills Hotel on January 16, 2012.
Article continues below advertisement
EXCLUSIVE DOCUMENTS: John Travolta Attorney Sets Deposition For Sex Accuser
Travolta's top-notch attorney Marty Singer has refuted the allegations from the beginning saying, "On the date when plaintiff claims John met him, John was not in California and it can be proved that he was on the East Coast."
Despite John Doe #1's lawyer Okorie Okorocha making claims that he can prove John was in Los Angeles at the time, Singer exclusively tells RadarOnline.com that he has documents proving otherwise.
"My client was in New York on January 15. We have flight and hotel records," Singer said.
A credit card receipt surfaced showing that Travolta was in New York on January 16 — and Okorocha argued Travolta may have flown out there in the evening, after the incident occurred with his client.
"The credit card receipt that Mr. Travolta says proves he was in New York City has a time stamp of 11:38 p.m., our complaint clearly says the assault occurred in the morning of January 16. This credit card receipt proves absolutely nothing, and it doesn't account for the day of January 16," Okorocha said.
Article continues below advertisement