Exclusive
John Travolta Sex Accusers' Lawyer Says He Can Prove Actor Was In LA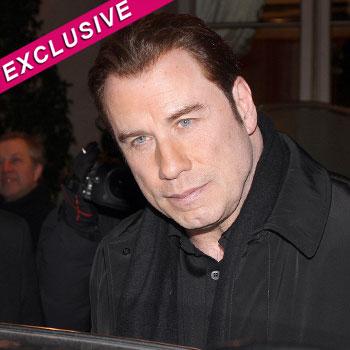 Article continues below advertisement
As previously reported, Travolta is being sued by two masseurs that claim they were both sexually assaulted by the Grease star. Travolta's attorney, Marty Singer, has vehemently denied the allegations in both lawsuits, branding both men as liars.
Singer has scheduled a deposition for one of the masseurs, but the unidentified man's attorney says it's too early in the proceedings for his client to do a formal interview and that they need more time to prepare.
In court documents, obtained exclusively by RadarOnline.com, Singer has scheduled a deposition for "John Doe #1" at his office in Century City on May 17.
"The deposition shall continue from day-to-day, Saturdays and Sundays and holidays excepted, until completed," the documents read. "Please take further notice that said deposition may be recorded on videotape...and may be transcribed and transmitted to counsel simultaneously by Live Notes or a similar program."
Article continues below advertisement
However, Okorie Okorocha, the attorney representing both accusers, fired off an email to Singer stating: "In all Federal Courts in the United States, pursuant to the Federal Rules of Civil Procedure, also called "FRCP" for short, you CANNOT commence discovery, such as depositions, until compliance with FRCP or Federal Rules of Civil Procedure 26 and 30, the former usually requires a significant amount of time to complete."
And when it comes to Singer's claim that Travolta was thousands of miles away when the alleged attack occurred, Okorocha is coming out swinging.
"I can prove and have evidence that John Travolta was in Los Angeles on January 16 when he sexually assaulted my client," Okorcoha tells RadarOnline.com. "I'm aware that Mr. Travolta's lawyer says he was in New York City on that date, but we have information that will prove that he was in Los Angeles on that day.
Article continues below advertisement
"The credit card receipt that Mr. Travolta says proves he was in New York City has a time stamp of 11:38 p.m., our complaint clearly says the assault occurred in the morning of January 16. This credit card receipt proves absolutely nothing, and it doesn't account for the day of January 16.
"My client was sexually assaulted at 10am, Travolta could make it to New York on horseback in that time," Okorocha asserts.
Okorocha is standing by his clients and says, "If Marty Singer thinks he can sue me on the validity of Mr. Travolta's denials, and if he wants to file the lawsuit now, I will give him a waiver allowing him to proceed with it at this stage of the case, even though under California law he has to wait until he wins the case, and that absolutely won't be happening. It will never happen, he won't win, so we might as well get it over with now. Bring it on."
Article continues below advertisement