Dean Furious After Tori Confronts Him With Love Letter He Sent To 'Delusional' Ex-Wife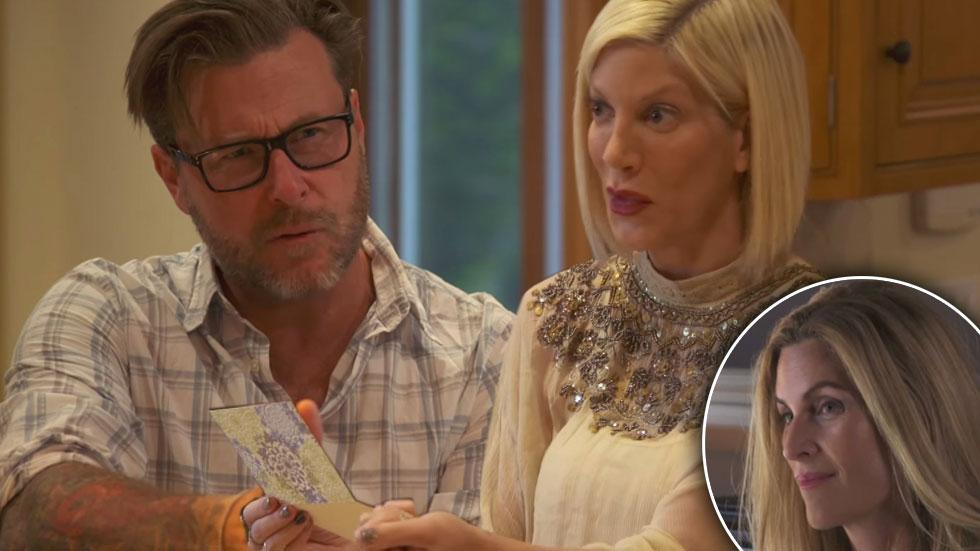 Tori Spelling's husband Dean McDermott went ballistic when she confronted him with a photo of a letter he'd once written to ex-wife Mary Jo Eustace, calling her the "love of his life."
On Tuesday night's episode of True Tori, the former Beverly Hills 90210 star continued to try to understand McDermott's unfaithful ways by consulting Eustace, but all she got was more trouble at home.
As the episode opened, Eustace told Spelling, who had stolen her husband McDermott away years ago, that she didn't wish for karma to wreck their marriage.
Article continues below advertisement
But Eustace did share with the actress a love letter McDermott had written her just months before cheating on her with Spelling.
Spelling silently read it on camera without revealing its exact content, then told the cameras, "It was painful."
Eustace said the reason she gave Spelling the letter was so she'd understand "we were real people and a real family.
"It wasn't a joke."
Eustace said she'd never have imagined McDermott would cheat on her.
Spelling revealed McDermott had told her they didn't sleep in the same bedroom, but Eustace denied that.
When Spelling asked her about McDermott's substance abuse issues, Eustace claimed he "had episodes" but "always bounced back.
"I think it's for attention," she added.
Eustace then called the actor and reality star "exhausting" and a "black hole," adding, "He's just that spirit that is never still, never happy — it's never enough."
Article continues below advertisement
Spelling wondered aloud if she had dragged him into a public life he didn't want, but Eustace declared, "I think he wanted it."
"Are you insinuating he went after me because of who I was?" Spelling asked.
"I don't know," Eustace replied.
Watch the video on RadarOnline.com
youtube=https://www.youtube.com/watch?v=tyWFLQA5AaU&w=560&h=315
The poor little rich girl nervously pointed out she'd received nothing from her parents: "If that's what he was looking for was a free ticket, like, it didn't work out."
Spelling told Eustace she had to accept who he was or move on.
She read the love letter one more time, and bizarrely took a picture of it with her cell phone.
Coincidentally, when she returned home to McDermott, he had a bouquet of flowers with a love note waiting for her.
Spelling told McDermott that she had just read his note to Eustace and had taken a photo of it, which she shared with her husband and read him a line from it that said, "You're the love of my life."
Article continues below advertisement
Enraged, McDermott snapped, "Why would she do that? Don't read it out loud!"
Spelling told him Eustace had said their marriage was great before his cheating, but he said that was a lie.
"I was a weak, emasculated, naïve individual and I wanted out of that relationship," McDermott insisted to his wife.
Spelling also told McDermott that Eustace didn't believe he was an addict.
However, he said he had confessed to his substance abuse problems to Eustace years ago "and I had a packet of coke in my pocket and I said I've been abusing cocaine for two-and-a-half years."
McDermott was outraged when Spelling told him Eustace thought that was just a plea for attention.
"This whole thing about having her on the show — the more she comes across as this wonderful loving person, people are watching, going, 'What the f*ck is Dean's problem? She seems great,'" he fumed.
"She's f*cking crazy! She's f*cking delusional. I don't want her on the f*cking show again! This is done with her: What a tale that she's spun."
Article continues below advertisement
McDermott labeled Eustace manipulative and said, "Whatever, f*ck people think of me," giving the cameras a two-fingered salute.
Later, McDermott met his manager in the hopes of reviving his moribund acting career.
"I feel like all this reality TV stuff has hurt me acting wise," said McDermott, who also told his manager he had lost 21 pounds and was clean and sober.
Then, at couples' therapy with Dr. Ann Wexler, McDermott told her and Spelling that filming a reality TV show wasn't good for him.
"I feel a little bit of a laughingstock," he said. "People who know me say, 'What the f*ck is he doing. He was a great actor.'
"I feel like I've thrown everything away by doing reality TV."
McDermott pointed out he hadn't seen anybody do both reality and scripted film and TV projects, but then Spelling (who starred in the soon-to-be-canceled sitcom Mystery Girls) raised her hand.
A sheepish McDermott called himself stupid.
Article continues below advertisement
Spelling then said she thought McDermott felt obligated to do True Tori because he had cheated on her.
And McDermott admitted to Dr. Wexler he didn't feel like he could have said no to Spelling.
But couples' therapy didn't appear to be enough for Spelling, as she dragged McDermott to a meeting with Guru Singh, a spiritual teacher, to search for more answers about their relationship.
"Dean, who's Tori?" the Guru asked him.
"Intelligent, immature, a baby, afraid of her feelings, afraid of hurting people, ill physically, amazing wife, amazing mom, full of life, amazing touch," and McDermott added the phrase he'd earlier used with Eustace — "Love of my life."
When asked who McDermott is, Spelling told the Guru, "My love, little boy, caring and selfish, lost, smart and stupid."
McDermott said, "You forgot crazy, not worthy, conflicted, confused, complicated, generous."
Article continues below advertisement
He confided in the spiritual advisor that his mom had died when he was 15.
"Your mother left this world but she didn't leave you," Singh said. "In your heart you're still 15."
McDermott started crying uncontrollably and Spelling hugged him.
Guru Singh advised them to be "innocent and vulnerable" in that way with each other.
After McDermott strangely told the Guru that Singh's face had morphed into somebody else's before his very eyes, Spelling was shown sighing to the cameras about her cheating man, "Emotionally, he's stunted."
True Tori airs Tuesdays on Lifetime at 9/8c.