Drugs, Cheating, Fighting & Wild Sex! TV Chefs' Secrets EXPOSED!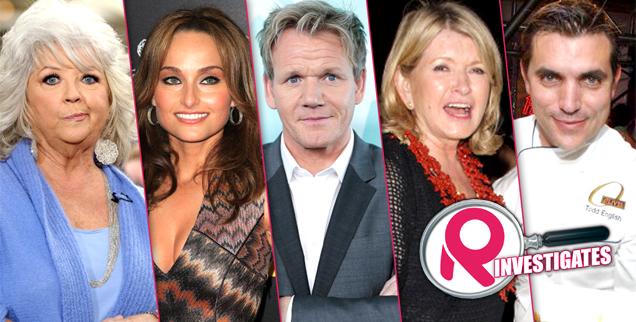 There's something steamy cooking in the kitchens of TV's top chefs – and it isn't just food! These culinary champs are serving up deviously delicious dishes of secrets and scandals and RadarOnline is bringing all the behind- the-scenes scoops to the table! Bon appetit!
Article continues below advertisement
TV Chefs' Secrets Exposed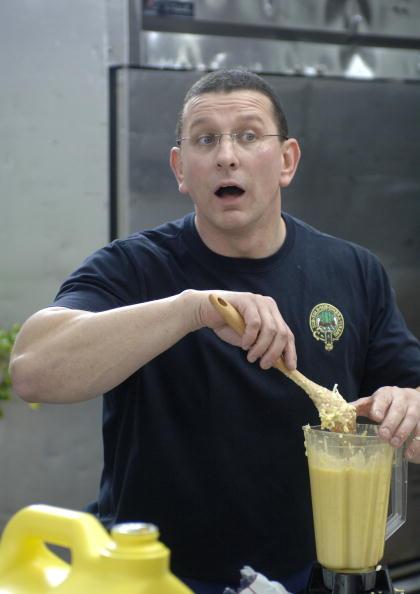 Liar, liar, your kitchen's on fire! British Food Network "Dinner Impossible" chef Robert got caught fudging his resume in 2008. He made claims that he had a food and nutrition degree from the University of Leeds, was a Knight Commander of the Royal Victorian Order, had worked as a White House chef and helped with the wedding cake for Prince Charles and Princess Diana. But it all turned out to be a load of baloney! The Food Network had to rework his bio, and the Home Shopping Network dropped his endorsed products. Yet somehow, the 49-year-old managed to survive. He's now hosting a new Food Network show called "Restaurant Express," with nine chefs competing to see who gets to open a Las Vegas restaurant.
TV Chefs' Secrets Exposed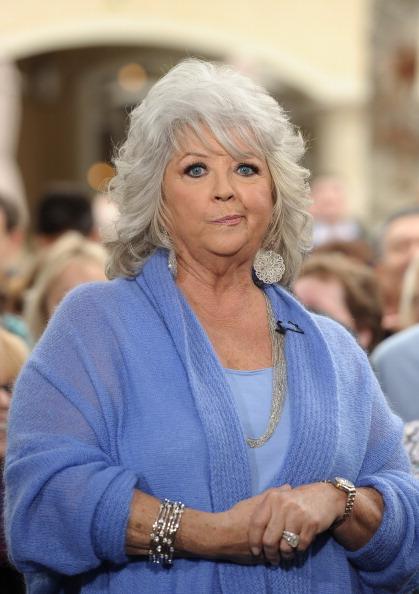 The ENQUIRER was first to reveal that the Southern-fried TV diva admitted to using racial epithets in a deposition for a lawsuit brought by a former employee of a Savannah, Ga., restaurant owned by Paula and her brother. In the end, the scandal got Paula, 66, booted
off the Food Network and rocked her culinary empire to the core. She was said to have lost a whopping $10 million in advertising endorsements, book contracts and TV appearances. And things continued to get worse! It came out that some of the items Paula peddles were produced in Indian and U.S. factories in which some workers are paid rock-bottom wages and exposed to dangerous and, in some cases, deadly working conditions.
Article continues below advertisement
TV Chefs' Secrets Exposed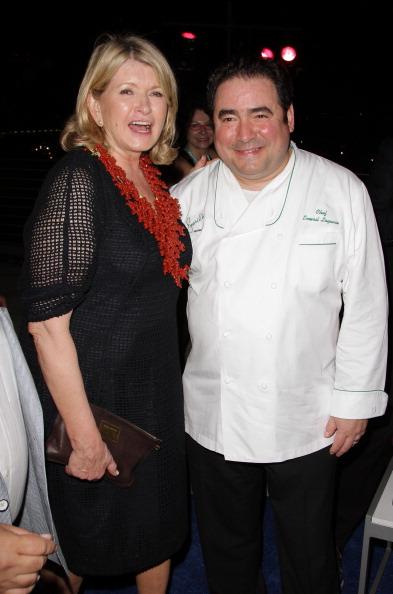 TV cooking stars Martha and Emeril
went over the edge with their promotion of cooking knife sets on the Home Shopping Network. The costly carvers were hyped as genuine Solingen steel, one of the world's best, but consumers who bought the bling-y blades were outraged when they learned they were actually made in China! Martha, 72, and Emeril, 54, got slammed with a whopping $24 million lawsuit in 2012 by a German trade association, which accused them of "willing infringement" of the Solingen trademark by placing it on inferior blades. The slicing and dicing squabble's still going on.
Article continues below advertisement
TV Chefs' Secrets Exposed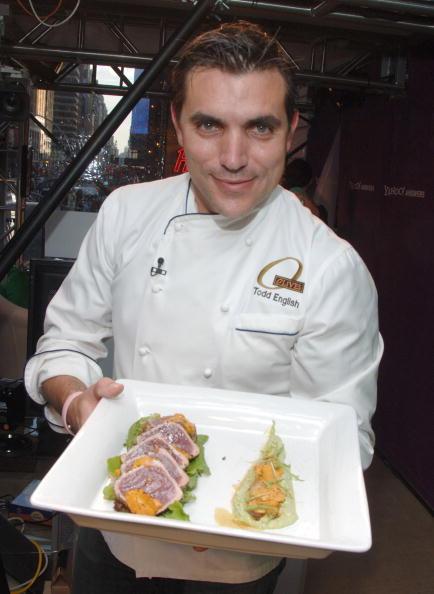 Superchef and restaurant owner Todd serves his dishes hot, but, according to his ex-fiancee, he's got ice running through his veins! In 2009, the callous cad – who starred on "Food Trip with Todd English" and "Cooking Under Fire" – ditched his fiancee at the altar. Todd, 53, had
planned a blowout wedding with the beautiful and much-younger Erica Wang, a $150,000 extravaganza at the posh St. Regis Hotel. But he disappeared days before the wedding and didn't tell his bride-to-be that he'd had a change of heart until the afternoon of the nuptials...
and he did it by phone! Wang claimed Todd then left her on the hook for $12,000 in wedding expenses, cut off her credit cards and kicked her out of their apartment. At the time, English said he was "deeply saddened and remorseful" about the cancellation "but our relationship
has not been positive for some time." Since Wang worked for Todd, she also lost her job.
Article continues below advertisement
TV Chefs' Secrets Exposed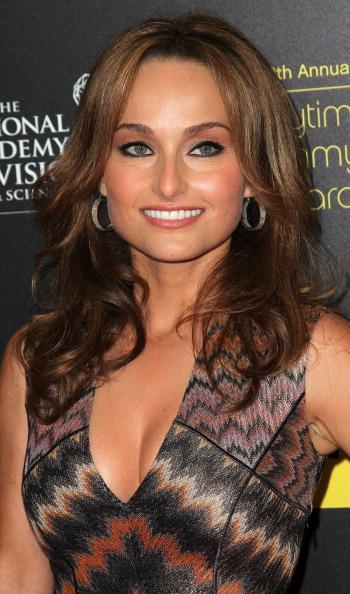 Saucy TV chef
Giada, 43, is a
little too hot in the
kitchen for some
viewers, who
complain that her
scandalous outfits
reveal too much
flesh. "Someone
should do Giada a
favor and tell her to
button up," blasted
one overheated
viewer. Another
added: "Wearing
such revealing clothing diminishes Giada's professionalism and detracts from the real reason for her show." But not everyone is outraged by the "Giada at Home" star's spicy wardrobe. "She's sensual, sexy and a class act," praised New York TV critic Marc Berman. "I love her recipes and winning smile. So what if she bares a little cleavage?"
Article continues below advertisement
TV Chefs' Secrets Exposed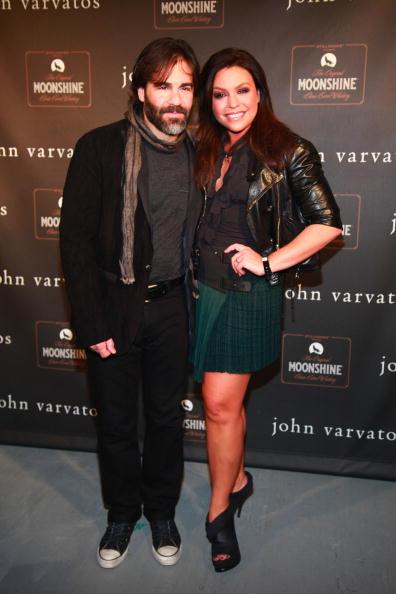 Rachael, 45, and her yum-o! meals are as wholesome as apple pie, but her hubby John Cusimano is another matter! Before AND after they tied the knot in 2005, the lawyer/ musician was reportedly spotted multiple times
at the private Manhattan swinger's club Checkmate, where he was seen in the company of female escorts, although Cusimano's lawyer denied the story. In 2006, The ENQUIRER exclusively reported Cusimano's bizarre sex fetishes with acts too degrading to print.
Article continues below advertisement
TV Chefs' Secrets Exposed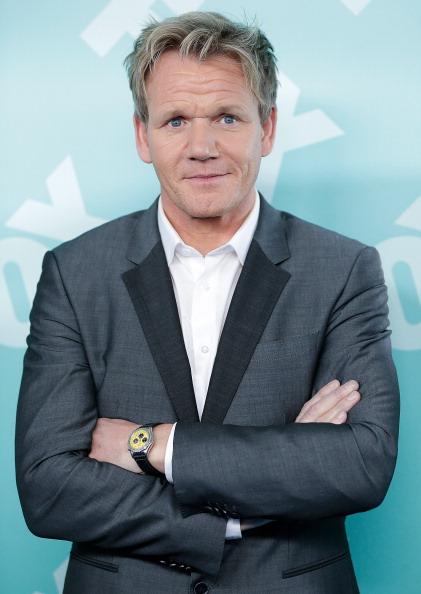 "Hell's Kitchen" star Gordon, 47, has been happily married to Tana Hutcheson for 17 years, but the union almost collapsed after the hotheaded Scot was accused of having a seven-year affair with former "professional mistress" Sarah Symonds. British papers were full of juicy details about their alleged trysts, but Gordon has adamantly denied the relationship. He must have whipped up a convincing tale, because Tana – who's written
six cookbooks herself – doesn't seem to be going anywhere. Ramsay was also embroiled in
a bitter feud with his father-in-law Chris Hutcheson, whom he accused of plundering more than $2 million from his restaurant empire. The two eventually settled the matter out of court
in 2012.