Betrayed Again? Tori Spelling Discovers Secret Letter Dean Wrote To His Ex-Wife! Now She's 'Questioning Everything'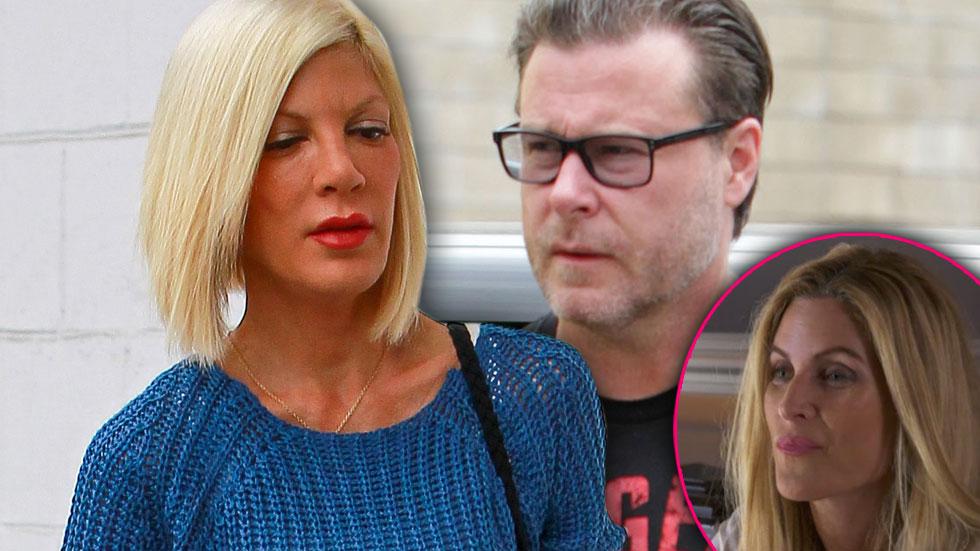 Dean McDermott's past continues to cloud his future.
That what viewers on the couple's Lifetime docudrama, True Tori, are set to witness on an upcoming episode, when Dean's ex-wife Mary Jo Eustace gives Tori Spelling a nearly 10-year-old love letter he wrote her, spouting off many of the same gooey words Tori herself has heard during their marital meltdowns, In Touch reports.
"It makes Tori question everything again," a source told the magazine. "Over the last year, they've worked hard to put what he did to her behind them and rebuild trust.
Article continues below advertisement
"Reading the letter made Tori see Dean for who he really is: A cheater. He claims he loves her now, but what's to stop him from going out and having another affair?"
Adding more insult to injury, the letter was dated Christmas of 2004, not too long before McDermott left Eustace to be with Spelling.
The Canadian actor "calls Mary Jo 'The love of my life,' and says she is the reason he is 'The man I am today," the source said, adding that the revelation led her to the conclusion "that the man she married is a fake."
"Dean professes his love to Mary Jo the same way he has to Tori throughout their eight-year marriage," the insider told the magazine. "How do you think that makes her feel?
An insider told the magazine that Tori was "shaking" as she read the note, coming to the grim reality that "Dean is not the devoted husband she believed him to be."
"As the saying goes, 'Once a cheater, always a cheater,'" the insider said.
Article continues below advertisement
Perhaps even more ironic for Tori was that she inadvertently brought the uncomfortable revelation upon herself to an extent, as RadarOnline.com was first to report that Eustace shared the revealing note after Tori coaxed her to appear on the show, to spice things up for the new season.
"At first, Mary Jo said, 'No,' but began to talk to Tori about it," a source told Radar exclusively. "After being offered $10,000, and a promise that she wouldn't be portrayed as the evil ex-spouse, Mary Jo agreed."
True Tori airs Tuesdays at 9/8c on Lifetime.