What Else Is Dean Hiding? McDermott 'Only Recently' Told Tori Spelling About His Past Cocaine Use, Says Source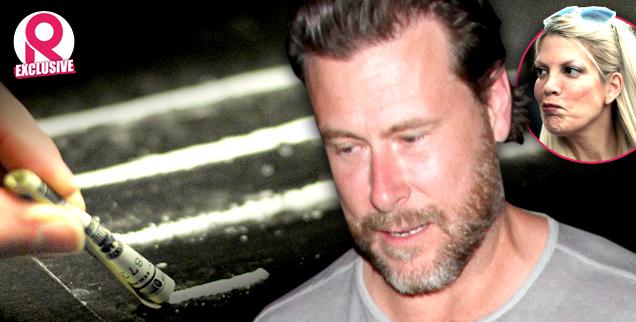 Tori Spelling has been bitterly betrayed, yet again! Just when she thought things between her and Dean McDermott couldn't get any worse, RadarOnline.com has learned that she was blindsided by the revelation that he had an addiction to cocaine during his first marriage, to Mary Jo Eustace.
"It only recently came to Tori's attention that Dean used cocaine while married to his first wife, Mary Jo," an insider told Radar. "The shocking revelation was made by Dean during a counseling session with Tori, which wasn't being filmed."
Article continues below advertisement
The source explained, "Dean doesn't want to use the word 'cocaine' used on Tori's reality show because he is afraid it will be difficult for him to get work in the future."
Although he admitted to doing "lines" during one episode, he did not specify a drug.
And now, Spelling is reeling. Said the source, "Tori just doesn't know how many more surprises she can take from Dean," a source told RadarOnline.com is exclusively reporting.
As Radar exclusively reported, McDermott's first wife, Eustace, previously accused him of cocaine use, out-of-control spending, anger issues and even brutally beating his own dog in an explosive court filing.
In Eustace's sworn 2005 declaration, she said, "In March 1999, I went to my parents' for a family gathering with Jack her son with McDermott, who was an infant at the time."
She claimed McDermott "missed the gathering because he didn't feel well. During the course of the event, Dean McDermott walked into the living room, threw a bag of cocaine on the table and said, 'I have a cocaine problem .'"
Article continues below advertisement
"Dean started crying uncontrollably and was shaking and said that he should go to the emergency room," she claimed. "I was able to calm Dean McDermott down. Dean McDermott told me he had used cocaine when he was in the house alone with Jack."
"I called a friend who had a cocaine addiction, who helped Dean McDermott get into a support group," she continued. "Dean McDermott committed to the support group and controlling his addiction to cocaine … for a while."
And though Spelling was recently made aware of McDermott's past drug use, "Tori had no clue it was in Mary Jo's declaration in the divorce proceedings with Dean," the source said. "She heard about it after reading it on RadarOnline.com. Dean is currently filming in Canada, but she has been blowing up his phone since the story came out. She just doesn't know how much more she can take."
The divorce between Eustace and McDermott was granted on March 13, 2006, after 12 years of marriage. He wed Spelling only weeks later on May 7, 2006. Eustace and McDermott share joint custody of their son, Jack.