Out Of Control! Dean McDermott Accused Of Hitting On A Mom At His Kids' School – Does Tori Know?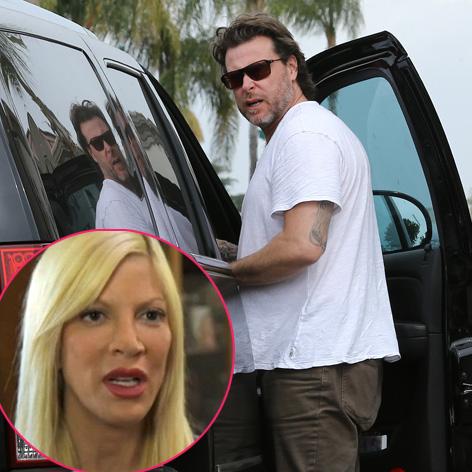 Just when Tori Spelling thought that her cheating husband, Dean McDermott, had hit rock bottom, rumors of yet another betrayal have rocked their marriage: RadarOnline.com has exclusively learned that McDermott is now being accused of making a pass of a hot mom at their kids' school!
"Dean began brazenly hitting on a hot mom in their son Liam's class," an insider tells Radar. "She is a busty blonde, and always impeccably dressed, even for pick-up and drop-off. Before the cheating scandal made news, Dean was openly hitting on her."
Article continues below advertisement
"The mom also has a son in Liam's class, and the two boys have had playdates together," the source reveals, but his comments crossed the line. "He would just say really inappropriate things to her, and complained Tori wasn't giving him sex. It got very awkward, as she never reciprocated any of Dean's overtures."
"Tori recently heard about it from other moms," the source confirms. "And she's decided that Liam won't be having any more play dates with the woman's son."
She has reason to be cautious: Spelling's husband has freely admitted he cheated on her ever since his affair was revealed. And on their reality show, True Tori, which is documenting the couple's attempt to reconcile, he seemed to excuse away the infidelity by claiming their sex life was lacking, and he has an "insatiable" appetite for the opposite sex.
The mind-blowing admission featured a distraught Spelling and flabbergasted McDermott at a session with their marriage therapist, in which they explore why he cheated on her and whether their marriage can be salvaged.
Article continues below advertisement
"We have four kids, so in the sex department there were ebbs and flows. Is that safe to say?" McDermott said looking at his wife.
"We had a great relationship, and we had a great sex life," Spelling battled back.
"We had sex once every two weeks," he said. "It wasn't fantastic."
After Spelling gasps in frustration, McDermott seems utterly lost asking, "What? What did I say?"
"Dean, your expectations of what a marriage is supposed to be like sexually, it's like a fairytale," the therapist says.
Meanwhile, Spelling is just "mortified that he was hitting on a mom at Liam's school," the source said. "She is even considering changing schools because of it. There has to be no temptation for Dean to stray. Obviously, Dean was attracted to this woman, and Tori is very upset about it."
Indeed, Dean's flirtation with the hot mom, "was the talk of the school, especially after the holidays, when it was revealed that Dean had cheated on Tori," the source revealed. "He seems to be like the kind of guy that would hit on anything in a skirt. The other moms just stay away from him, and think he is a dirty dog."
McDermott didn't immediately respond to request for comment.