Exclusive
The Floodgates Are Open: Dean McDermott Set To Admit To Other Affairs On 'True Tori'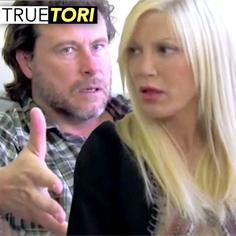 Dean McDermott will confess to having had several affairs on upcoming episodes of wife Tori Spelling's reality show, True Tori​, in dealing with their attempt to save their marriage amidst the Canadian actor's admitted affair on Aaron Spelling's daughter, RadarOnline.com is exclusively reporting.
"The band aid is going to be ripped off, and Dean will admit to Tori that he cheated on her with not only with Emily Goodhand in Toronto, but several other affairs," a source told RadarOnline.com. "These were one-night stands, and not long standing relationships.
Article continues below advertisement
"Dean wasn't in love with any of the women he had sex with — it was only an escape, and nothing more. Once Dean admitted to the other affairs, Tori absolutely lost it, obviously. It was a devastating revelation, and Tori will never be able to forgive him for the betrayal and cheating."
Filmed just three weeks ago, Spelling, 40, is in tears while documenting her drive to the therapist where she will approach her philandering hubby about his relationship with Emily Goodhand, the woman he slept with while in Toronto filming Chopped Canada.
In a cringeworthy clip from True Tori, McDermott, in a moment of brutal honesty, says sex with Tori "wasn't fantastic."
"We have four kids, so in the sex department there were ebbs and flows. Is that safe to say?" McDermott says looking at his wife.
Spelling shot back, "We had a great relationship, and we had a great sex life."
"We had sex once every two weeks," he responded. "It wasn't fantastic."
After Spelling gasped in frustration, McDermott seemed utterly lost asking, "What? What did I say?"
Article continues below advertisement
The therapist chimed in, "Dean, your expectations of what a marriage is supposed to be like sexually … it's like a fairytale."
"Like, I can never give him enough sex. He's never going to be happy with just me," Spelling cries.
McDermott summed up his sexual appetite as "insatiable," and said that "sex was an escape just like drugs and alcohol."
Spelling, 40, and McDermott are in the middle of filming a six-episode docudrama for Lifetime called True Tori that will focus on the couple's battle to fight infidelity, their financial woes and whether their marriage will crumble or not. The two have four children together; Finn, Hattie, Stella and Liam.
McDermott has "moved back into the family house, but isn't sleeping in the master bedroom with Tori," the source told us.
"Things around the house are extremely tense — the only benefit for Tori having Dean back in the house is that he can help out with the kids — if they didn't have four kids together, she would have already filed for divorce," the insider said.