Tori Spelling's Husband Blames Cheating On Lack Of Sex: 'We Had Sex Once Every Two Weeks, It Wasn't Fantastic … I'm Insatiable'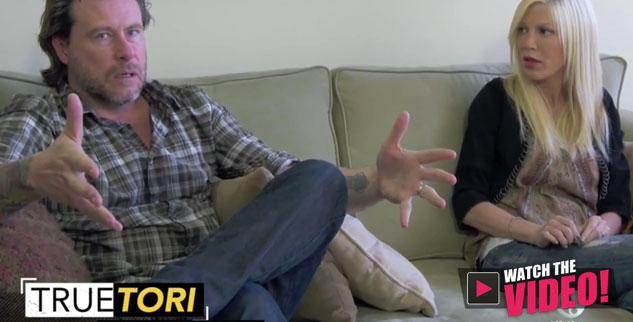 Not only has Tori Spelling's husband admitted he cheated on her, but in a new teaser clip for their reality TV show, Dean McDermott seems to excuse away the infidelity by claiming their sex life was lacking and he has an "insatiable" appetite for the opposite sex.
The mind-blowing clip features a distraught Spelling and flabbergasted McDermott at a session with their marriage therapist in which they explore why he cheated on her and if their marriage can be salvaged.
Article continues below advertisement
"We have four kids, so in the sex department there were ebbs and flows. Is that safe to say?" McDermott says looking at his wife.
"We had a great relationship, and we had a great sex life," Spelling battles back.
"We had sex once every two weeks," he says. "It wasn't fantastic."
After Spelling gasps in frustration, McDermott seems utterly lost asking, "What? What did I say?"
"Dean, your expectations of what a marriage is supposed to be like sexually, it's like a fairytale," the therapist says.
"Like, I can never give him enough sex. He's never going to be happy with just me," Spelling cries.
"I'm insatiable. Sex was an escape just like drugs and alcohol," he says.
"I don't understand. Like, why her?" Spelling asks, presumably talking about Emily Goodhand, the young woman from Canada who came forward late last year claiming she slept with McDermott, 47, while he was in Toronto filming Chopped Canada.
Article continues below advertisement
"I wasn't attracted to her. It was just like a warm body," McDermott says.
"I'm mad. I'm really mad," Spelling confirms.
"My worst nightmare is what I did. Absolutely. I cheated on my wife. That's my worst nightmare," he reveals.
"Or that you got caught?" Spelling suggests.
"I don't know," McDermott concedes in frustration.
Spelling, 40, and McDermott are in the middle of filming a six-episode docu-series for Lifetime called True Tori that will focus on the couple's battle to fight infidelity, their financial woes and whether their marriage will crumble or not.
The two have four children together; Finn, Hattie, Stella and Liam.
True Tori will premiere on April 22 at 10 p.m. ET/PT on Lifetime.