Exclusive
Tori Spelling Back On Reality TV! Dean McDermott's Wife To Document 'Most Unpredictable Period In Her Life' Following Hubby's Release From Rehab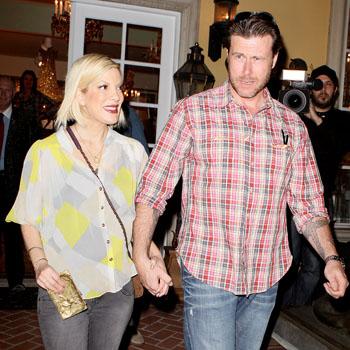 Tori Spelling has landed back on reality TV with her own docu-series that will air on the Lifetime, and RadarOnline.com has exclusively learned the 90210 heiress begins filming today.
According to an insider, Spelling's journey on the six-episode series will document the rocky road she navigates with hubby Dean McDermott following a marriage crisis when he was accused of infidelity and then his subsequent treatment in a rehab center.
Article continues below advertisement
"There's no telling yet how the show will pan out and how much drama there will be since they literally just started filming this morning," the source said.
In a press release from Lifetime, the network states "the real story will be told as it should be, by Tori Spelling herself" and says the 40-year-old mother of four "has made the courageous decision to allow the audience to witness the most difficult and unpredictable period in her life."
Titled True Tori, the series will focus on Candy Spelling's daughter but promises to reveal whether her marriage with McDermott, 47, will survive.
As RadarOnline.com exclusively reported earlier this month, Spelling's family has been thrown into financial turmoil lately — and McDermott was spotted picking up groceries for the family on March 7 at Smart and Final, a discount warehouse chain in L.A. As he rolled a cart full of toilet paper, bread, and other groceries out to his car through the crowded parking lot, "He looked miserable," an onlooker who contacted RadarOnline.com said.
And last month Spelling was forced to close her antique store, InvenTORI, amid claims that the family is "broke."
McDermott recently checked out of rehab after a 30-day stint for the "mistakes" he made, the "pain" he'd caused his loves ones and so that he could "become the husband and father my family deserves."
Only one day into filming, True Tori, will premiere in just three weeks on April 22 at 10 p.m. ET/PT on Lifetime.