Busted! Tori Spelling's Husband Dean McDermott Reportedly Had Sex With Another Woman – Claimed His Wife Won't Sleep With Him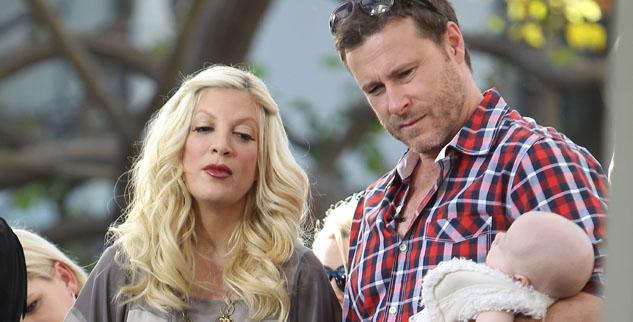 Busted! Tori Spelling's husband Dean McDermott is definitely on this naughty list this Christmas after a woman reportedly has come forward to claim that she met him just a few weeks ago, and had sex with him that very night, and he even made the shocking claim that his own wife won't sleep with him!
It seems like McDermott took the 500 mile rule a little too literally. While his wife was attending a PR event in Los Angeles, he was partying in Canada where, according to a recent report, he met a 28-year-old woman who claimed he jumped into the sack with her.
Article continues below advertisement
"He told me he and Tori had a sexless marriage," Emily Goodhand said about the married father-of-four.
"I believed him."
Goodhand revealed to Us Weekly magazine that on December 6 that they met at the Pravda Vodka House but it was after a long dinner and drinking in another bar with a group of friends that Spelling's husband slipped his room key and a piece of paper with his phone and room numbers in her purse. She says that she initially left to go home, but says: "I made a stupid decision."
She told the magazine that McDermott wasn't in the room at Toronto's Fairmont Royal York Hotel when she arrived, but as soon as she sent him a text threatening: "If you're not here in five minutes I'm leaving," he promptly returned to the room and the fling began.
McDermott piled on the charm, Goodhand recalled.
"He was romantic and very complimentary. He was telling me, 'You're so beautiful.' I had to call him on his bullsh*t, like, 'Stop saying this stuff.' He wanted to make me feel really good. Then the time for talking was over."
Article continues below advertisement
Goodhand said they "absolutely" used protection during sex and then chatted about the mother of his children.
"He said, 'I love my wife. I love her so much, but she just won't sleep with me.' I didn't ask why because it was awkward."
Spelling has always worried about her husband's wandering eye, after their own meeting when they were both married to other people, previously admitting that she fears he might do the same thing to her.
"We're a loving couple, but were human and definitely not perfect," she said in the past. "Given our history I often get worried that Dean is going to cheat on me. If the phone rings and it's a girl's voice I have to ask if he's having an affair."
Goodhand says that she returned to the hotel the next night where she claimed McDermott showed her a sex tape he and his wife had filmed. She says she refused to watch after one glance, and said they ended up just hanging out that night and not having sex.
According to the magazine, reps for Spelling and McDermott had no comment.
Recognizing that McDermott is a married man, Goodhand said she wants to apologize to Spelling.
"I'm an adult and I make my own decisions. I'm sorry. I f**ked up."