Exclusive
9021-Uh-Oh! Tori Spelling Confirms Existence Of Secret Sex Tape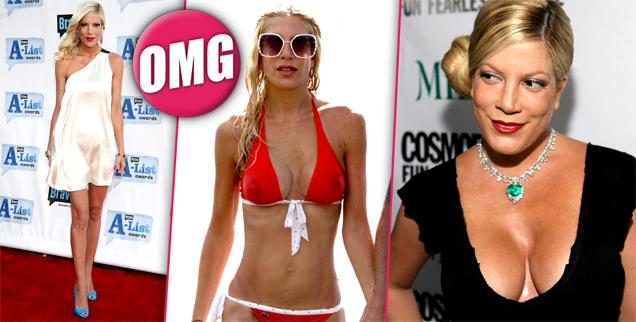 Article continues below advertisement
"Afterward, I checked my angles and they were good so I allowed him to keep it," she reveals. "He uploaded it to our computer at home … without password protection."
And there it stayed, undisturbed for roughly two years, before one of McDermott's "so-called friends got his dirty paws on it," Spelling writes.
Just days before Spelling was set to renew her vows with McDermott, her husband dropped the bombshell news. McDermott "proceeded to tell me that one of his biker friends had told him that another one of his biker friends had bragged about how he'd found a sex tape of us on Dean's computer, copied it, and was attempting to sell it to entertainment shows or anyone who would pay the right price," she explains. "I was horrified."
Spelling and McDermott sent the man a legal letter, and he never responded, she says.
"We never heard from him again, and the incident went away," she writes.
That wasn't the couples only X-rated controversy in recent years. Just a few months after they weathered the sex tape scandal, Spelling's husband inadvertently tweeted a photo of her naked chest when he posted a pic of his son, Liam, playing around in the couple's bed.
"I was just topless!" Tori insists in the book. "Dean and I don't believe in hiding our bodies. We don't want our children to think that their bodies are something to hide."