'Tis The Season For Social Media! Stars Share Their Festive Holiday Snaps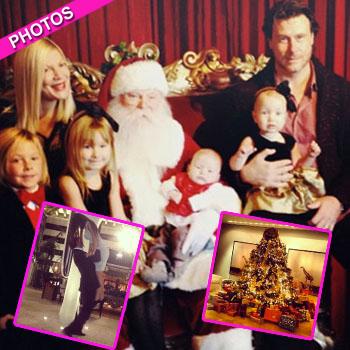 Celebrities took to social media over the Holidays to share their festive family snaps with the world and RadarOnline.com has a round-up of all the best pics.
Tori Spelling posted a photo on her website Tuesday of the whole family posing with Santa and the caption "Merry Christmas & Happy Holidays from the McDermotts!"
As previously reported, 2012 was a tough year for the reality star who was hospitalized for two weeks following the birth of her last baby and later confessed she "nearly died" during the difficult pregnancy.
Article continues below advertisement
In a revealing interview six weeks after giving birth to her fourth child Finn Davey McDermott, the 39-year-old actress opened up about the extent of her health scare -- a secret she kept hidden from her fans.
Spelling told US Weekly that twenty weeks into her pregnancy, she woke up one day and made the frightening discovery that there was blood dripping down her legs.
Spelling was taken to a hospital in Los Angeles, where she learned she had a relatively rare condition called placenta previa, in which the placenta covers the opening of the cervix; it's also a condition that can lead to massive internal bleeding.
US reports the condition was most likely linked to the C-sections she had with her three other children -- Liam Aaron, 5, Stella Doreen, 4, and Hattie Margaret, 10 months.
The timing of Finn's conception could also be another possible reason for the complication as Spelling became pregnant again just one month after Hattie was born. Spelling's husband Dean McDermott is the father of all four children.
Article continues below advertisement
The condition put Spelling at risk for substantial bleeding, which could have forced doctors to terminate the pregnancy and remove her uterus to save her life.
"It was surreal," Spelling told US. "I just remember thinking, 'I can't leave three children behind.'"
Doctors ordered Spelling to rest in bed for four months. After enduring nine intense bleeding incidents, Finn was born via C-section August 30, 2012 -- 37 weeks into the pregnancy, which is considered normal.
Although little Finn was healthy, three weeks after his birth, Spelling's surgical scar ruptured and she was taken back to the hospital. She had emergency surgery and remained hospitalized for two weeks.
2012 seemed to fare better for Neil Patrick Harris. The How I Met Your Mother star spent the year relishing fatherhood along with his partner David Burtka.
The actor posted a super cute snap of his two-year-old twin son Gideon dressed as Santa and sweeping the floor of his home. In a story that is sure to ring a bell with many parents, the 39-year-old revealed that his hours of wrapping Christmas gifts went unappreciated after Gideon shunned all the presents in favor of the broom!
Article continues below advertisement
"Up until 2am constructing a table with wooden trains for Gideon and all he wants to do is play with a broom," he tweeted.
Meanwhile, Rachel Zoe soaked up some holiday sun, posting a photo of her and husband Roger enjoying lunch in St. Barts.
And, as RadarOnline.com previously reported, after suffering through a slew of health problems in 2012, Rosie O'Donnell seems to be on the mend and full of the festive spirit!
The 50-year-old shared some candid snaps of herself and new wife Michelle Rounds on her Twitter Monday.
In one cute snap the two, who secretly married back in June, are seen kissing. In another, they are pictured smiling broadly as they hug.
Rosie claimed back in August that she was "lucky to be alive" following a heart attack. O'Donnell wrote about what happened on her blog, explaining that a few hours after helping an "enormous woman struggling to get out of her car" she started feeling pain throughout her body.
Article continues below advertisement
"I had an ache in my chest both my arms were sore everything felt bruised," Rosie wrote, but said that she took Bayer Aspirin and did not call 9-1-1 and waited until the next day to go to the cardiologist, where she was told that she had a heart attack and was sent to the hospital where a stent was put in.
"My LAD (Left Anterior Descending Artery) was 99 percent blocked," she revealed. "They call this type of heart attack the Widow maker I am lucky to be here."
ON YOUR RadarOnline.com 2012: Biggest & Most Shocking Celebrity Scandals Of The Year
ON YOUR RadarOnline.com 2012: The Most Talked About Celebrity Babies, Kids & Teens Of The Year
ON YOUR RadarOnline.com 2012: The Most Heartwarming & Inspiring Feel Good Stories Of The Year