Ho, Ho…Uh-Oh? Cringe-Worthy Celebrity Christmas Snaps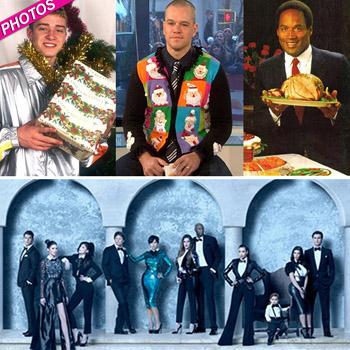 It's supposed to be the most wonderful time of the year. But even the most photogenic celebrity is not immune from taking a cringe-worthy Christmas photo.
And RadarOnline.com has snaps of stars posing, grinning and even squirming in not-so flattering festive snaps.
Heavy.com compiled the top ten awkward celebrity Christmas pics that are decidedly cheesy.
Matt Damon doesn't seem too pleased as he dons a garish Santa Clause-print vest on the set of the TODAY show. In stark contrast funny girl Kathy Griffin seems to be relishing her time on Santa's knee.
Article continues below advertisement
Meanwhile, talk show host Conan O'Brien is clearly playing for laughs as he hugs former heavyweight champ Mike Tyson in a cheesy picture.
In the 1990s, Justin Timberlake was doing anything but bringing Sexy Back wearing a silver shell suit and gold tinsel.
And, what better to convey the true spirit of Christmas than OJ Simpson grinning widely as he holds a carved turkey on a vintage greeting card from the days when Simpson was still best known for his football skills than courtroom adventures?