Tori Spelling: I Nearly Died During My Pregnancy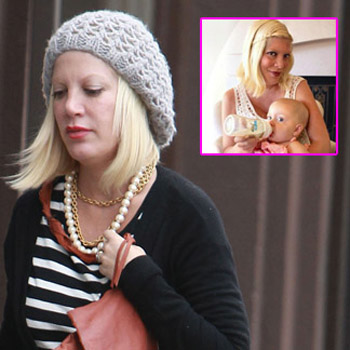 Tori Spelling says she nearly died during her latest pregnancy.
In a revealing new interview six weeks after giving birth to her fourth child Finn Davey McDermott, the 39-year-old actress/reality TV star opens up about the extent of her health scare -- a secret she kept hidden from her fans.
Spelling tells the new issue of US magazine that twenty weeks into her pregnancy, she woke up one day and made the frightening discovery that there was blood dripping down her legs.
Article continues below advertisement
Spelling was taken to a hospital in Los Angeles, where she learned she had a relatively rare condition called placenta previa, in which the placenta covers the opening of the cervix; it's also a condition that can lead to massive internal bleeding.
US reports the condition was most likely linked to the C-sections she had with her three other children -- Liam Aaron, 5, Stella Doreen, 4, and Hattie Margaret, 10 months.
The timing of Finn's conception could also be another possible reason for the complication as Spelling became pregnant again just one month after Hattie was born. Spelling's husband Dean McDermott is the father of all four children.
The condition put Spelling at risk for substantial bleeding, which could have forced doctors to terminate the pregnancy and remove her uterus to save her life.
"It was surreal," Spelling told US. "I just remember thinking, 'I can't leave three children behind.'"
Article continues below advertisement
Doctors ordered Spelling to rest in bed for four months. After enduring nine intense bleeding incidents, Finn was born via C-section August 30, 2012 -- 37 weeks into the pregnancy, which is considered normal.
Although little Finn was healthy, three weeks after his birth, Spelling's surgical scar ruptured and she was taken back to the hospital. She had emergency surgery and remained hospitalized for two weeks.