Exclusive
Craft Wars Judge Dishes On Bestie Tori Spelling & New Show!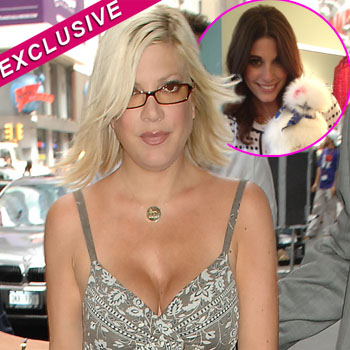 By Alexis Tereszcuk - RadarOnline.com Entertainment Editor
Tori Spelling has her own competition reality show, Craft Wars, where she's the boss and one of her best friends is a judge, but there is definitely competition between the two – and her friend beats her in the bra size department!
Erica Domesek, the author of the DIY book, PS I Made This, is the wise cracking judge who says her only filter "is on Instagram," and she dished exclusively to RadarOnline.com about all the crafty things she does, and how she works with her best friend Tori on the show.
Article continues below advertisement
"Tori grew up with elaborate birthday parties and is obsessed with things that glitter and pets. She loves some glitter. It is exciting to share a passion with her," Erica said about her bestie.
And even though they're friends, Erica joked that she can beat Tori in one competition – "I have bigger boobs than Tori!"
In each episode of Craft Wars three talented crafters will be supplied with every crafting tool they could dream of, furnished by Michaels, the arts and crafts store, as well as some unexpected items with the ultimate prize of $10,000.
Erica says she lucked out with her profession, getting to get paid for doing what she loves.
"I crafted a career out of something I love and am passionate about. I'm so lucky to do what I do for a living. I like to educate and inspire. I'm in the business of creating smiles," she says.
The set has become a showcase for Tori's family pets too – including her chicken!
"Tori brought Coco to the set, it was the highlight of the season times 10. Coco was dressed up and I'm so impressed that she got a chicken to stand still!"
Article continues below advertisement
Tori Spelling's Going To Be Neighbors With Britney Spears!
Maternity Monokini! Tori Spelling Flaunts Her Baby Bump In Sexy Swimsuit