Tori Spelling Bites Back At Critics Of Her Bikini-Clad Belly, 'I'm Bump Proud!'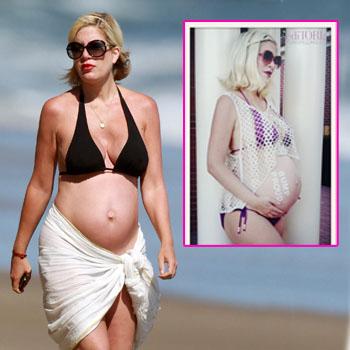 By Debbie Emery - RadarOnline.com Reporter
Pregnant mother-of –three Tori Spelling has never been afraid to show off her baby bumps in teeny bikinis – nor is she scared to stand up to critics who say she should cover up when she's expecting!
Now due to give birth to her fourth child next month, the reality star bit back against commenters who bashed her last skimpy swimwear shot in a very un-maternal manner.
"Spoiler Alert: Yep! I'm wearing my BUMP PROUD again in a bikini so if you don't want to look then leave my site now!" the former Beverly Hills 90210 star announced on her blog on Thursday.
Article continues below advertisement
She went on to reveal that, "A few months back, I caught a lot of flack on two separate occasions for bearing my baby bump in a bikini and monokini while spending the day poolside with my family.
"Apparently people online have some strong opinions about showing your pregnant body and what's appropriate to wear."
Spelling went on to list a slew of nasty messages including: "She's pregnant and wearing this? She's just trashy and looks like a hooker!" and "Too much showing. Not suitable for a pregnant mom with a seven-month-old."
With one commenter even giving the 39-year-old a sharp dig for her outfit not being age-appropriate. "I mean, it's ok for a younger girl to wear something like that, but a mom of (soon to be) 4, having a baby bump, that suit doesn't seem, ahem, 'suitable,'" they wrote.
Despite her online lambasting, Tori proclaimed, "I'm super proud of my bump. Why should I be embarrassed and cover up something that's the greatest gift a woman can experience? A pregnant woman in any shape or size is beautiful!
MORE ON:
Beverly Hills 90210
Article continues below advertisement
"I call it BUMP PROUD! Embrace your growing curves and bourgeoning belly."
From a stars and stripes two-piece on the 4th of July, to the controversial crocheted string monokini she wore to a Memorial Day barbecue, the California native is clearly most comfortable in beachwear.
"I would wear either of those bathing suits before pregnancy (and I have! Plus, the monokini is vintage and 70's crochet chic) so why shouldn't I be able to now just because I have a big baby belly?"
Husband Dean McDermott doesn't seem to be complaining about either of her fashion choices - or their rapidly expanding family. "Dean can't keep his hands off me! He's like, 'You're the sexiest pregnant woman,'" Tori, who will soon be hosting her own reality show called Craft Wars, recently revealed.
The couple will welcome their fourth child this autumn, to add to her brood of Liam, 5, Stella, 4, and infant Hattie.