Tori Spelling: 'Bad Boyfriend' Ex Nick Savalas Called Me Ugly Repeatedly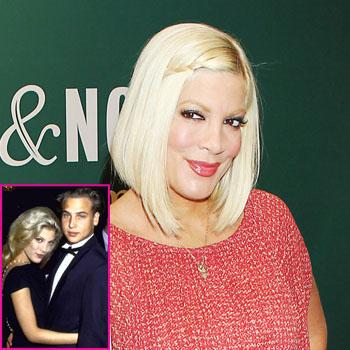 Tori Spelling might have grown up with fame and fortune, but self-esteem was hard to come by, as she says ex-boyfriend Nick Savalas repeatedly hurt her confidence by calling her ugly.
The painful memory was rehashed when a reader of the star's blog ediTORIal, asked her, "If you could look back at your 21-year-old self, what advice would you have for her?"
Tori responded Wednesday, "I would tell 21-year-old Tori that she's strong, beautiful, smart, and can do anything that she sets her mind to. At 21, my biggest obstacle (well aside from a bad boyfriend) was myself.
Article continues below advertisement
"I lacked such self-confidence that I constantly stood in my own way. Although I don't believe in regrets and think every moment makes us the women and moms we ultimately become, it would be nice to give this advice!
The daughter of late TV pioneer Aaron Spelling once told Entertainment Weekly her doomed two-year relationship with Nick (the son of late Kojak star Telly Savalas) "was a nightmare.
"He was never physically abusive, but he was verbally abusive, telling me 10 times a day how ugly I was," she said.
The 39-year-old reality star's due to give birth to her fourth child with hubby Dean McDermott this fall, adding to her brood of Liam, 6, Stella, 5, and Hattie, 18 months.
As for Nick (whose half-sister is former Desperate Housewives star Nicolette Sheridan) his show-biz career wasn't very pretty, as his last role came in 1998 action short Greasers.
RELATED STORIES: