Rosie's Feeling The Holiday Love! O'Donnell Shares Candid Snap Of Kiss With New Wife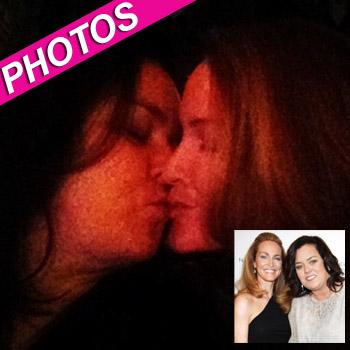 Article continues below advertisement
As RadarOnline.com previously reported, Rosie claimed back in August that she was "lucky to be alive" following a heart attack.
O'Donnell wrote about what happened on her blog, explaining that a few hours after helping an "enormous woman struggling to get out of her car" she started feeling pain throughout her body.
"I had an ache in my chest both my arms were sore everything felt bruised," Rosie wrote, but said that she took Bayer Aspirin and did not call 9-1-1 and waited until the next day to go to the cardiologist, where she was told that she had a heart attack and was sent to the hospital where a stent was put in.
"My LAD (Left Anterior Descending Artery) was 99 percent blocked," she revealed. "They call this type of heart attack the Widow maker I am lucky to be here."
Meanwhile, Michelle was diagnosed with desmoid tumors and had to undergo surgery.
Desmoid tumors target the cells that form muscle, fibrous and nerve tissue. They're aggressive and can eventually destroy tissues and bones, but fortunately do not spread throughout the body.
Article continues below advertisement
It wasn't all doom and gloom in 2012 for the newlyweds though!
Rosie's health scare did bring about an end (or maybe a truce!) to her ongoing war of words with Donald Trump.
The outspoken billionaire put his disdain for Rosie aside after learning of her heart attack and even sent the comedienne a get-well message!
"@Rosie, get better fast. I'm starting to miss you!" Donald tweeted.
A far cry from the war he'd previously waged on O'Donnell, calling her a "loser," a "pig" and a "bully."