Here Comes The Brides! Rosie O'Donnell Is Married To Girlfriend Michelle Rounds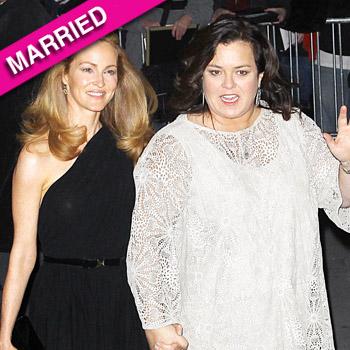 By Debbie Emery - Radar Reporter
After bravely revealing that she had recently suffered a heart attack, Rosie O'Donnell had more big news on Monday when she announced that she is a married woman!
The talk show host had been planning to tie the knot with girlfriend Michelle Rounds this month, but instead chose to wed in a secret private ceremony in New York City on June 9.
The last minute change of plans was sparked by Michelle's health crisis when she was diagnosed earlier this year with desmoid tumors, a rare disease that only affects three out of every million people.
Article continues below advertisement
"It is such a rare tumor. It took them quite a while to get an accurate diagnosis," explained Berger. "She had several gastrointestinal surgeries to remove the desmoid turmors. She is now on the road to recovery."
O'Donnell also celebrated the happy news on her blog, telling fans:
"We married in private before (Michelle's) surgery, just the (two) of us," she wrote. "When we r both well enough will have the wedding of r dreams surrounded by those we cherish. Thankful for the love and support so many have given us during these trying times."
As RadarOnline.com previously reported, 50-year-old O'Donnell opened up about her own medical drama last week.
"I had an ache in my chest both my arms were sore everything felt bruised," Rosie wrote, but said that she took Bayer Aspirin and did not call 9-1-1 and waited until the next day to go to the cardiologist, where she was told that she had a heart attack and was sent to the hospital where a stent was put in.