Just When You Thought You Knew Everything About Tori! Spelling Shares Intimate Family Home Videos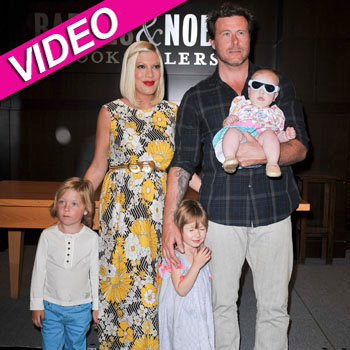 Article continues below advertisement
"When I became a woman, then a wife, and then a mom I hoped people would know me for me," she says.
"Reality TV helped me achieve that. People have asked me why I chose to film my life? Well, that's easy... People were going to view me how they wanted to, no matter what. So, without anything to lose I wanted to share the real me. If nothing else it would be therapeutic. But, what emerged was nothing short of amazing."
In her candid videos Tori is shown preparing for the birth of her last child with her husband Dean McDermott, entering the hospital for Finn's birth, and toasting with pink champagne to celebrate his arrival.
"There's no reality crew, hair & makeup, or commercials this time. These are home videos of my family made by my family to share with all of you here on ediTORIal. Thank you for all the unconditional love and support you have shown us. Life gives us the moments... we create the memories," Tori writes.