Tori Spelling With No Makeup, Looks Tired And Haggard, Out Shopping With Her Kids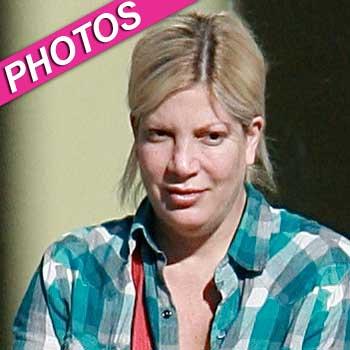 Tori Spelling was not having one of her better glamor days when she took her kids shopping to the Sherman Oaks Galleria.
The reality star went makeup free and with her hair lazily pulled back for her trip out with four-year-old Stella and three-month-old Finn.
As RadarOnline.com reported, the mother of four kids under the age of five had an extremely difficult pregnancy with Finn. And she was rushed back to the hospital weeks after the birth, for an emergency surgery.
Article continues below advertisement
Still trying to get her strength and stamina back, Tori and her husband Dean McDermott did treat themselves to a romantic overnight away from home earlier this month -- her first getaway since her medical scare.
RELATED STORIES:
Tori Spelling: I Nearly Died During My Pregnancy
Tori Spelling Finally Leaves Hospital After C-Section Complications
Tori Spelling Gives Birth: 'It's A Boy!!!!'