Mad Hattie's Tea Party! Tori Spelling's Alice In Wonderland Birthday Party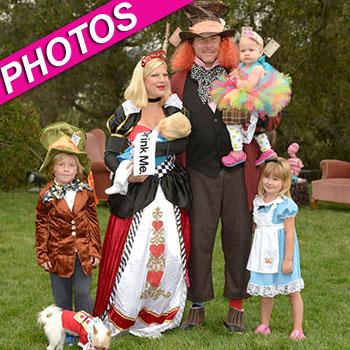 Tori Spelling is back on her feet and happy and healthy once again after her recent terrifying brush with death, and the mom-of-four is clearly in a celebratory mood!
Tori and her hubby Dean McDermott, threw a lavish Alice In Wonderland themed party for their daughter Hattie's first birthday, and RadarOnline.com has all the super cute photos.
Tori, Dean and the kids were joined at their home by 150 friends and guests for the fun packed bash, and by the look of things no expense was spared!
Article continues below advertisement
Tori was dressed as the Queen of Hearts in a checkered bodice with black and gold puffed sleeves while Dean was the ultimate Mad Hatter, clad in striped pants with mismatched socks and an oversized bowtie.
Stella, 4, was dressed as Alice, Liam, 5, was dressed as the Mad Hatter just like dad, while birthday girl Hattie looked adorable in a colorful tutu and polka dot leggings. Rounding out the clan was 2-month-old Finn, who wore a "Drink Me" sash to portray the potion that causes Alice to shrink. Tori and Hattie were also clad in identical Retro Crocs for the special occasion.
Tori told Celebrity Baby Scoop about how she and Dean decided on the birthday girl's name: "I asked Dean to start Googling old-fashioned girl names," Tori said, after confessing they hadn't picked a girl's name for the baby because they were convinced right up until she was born that she going to be a boy! "He started at 'A' and read through the alphabet, both of us shaking our heads the whole time. When he read the name Hattie aloud, we both looked at each other and said, 'That's it!'"
Article continues below advertisement
As RadarOnline.com previously reported, in a revealing new interview six weeks after giving birth to Finn, the 39-year-old actress/reality TV star opens up about the extent of her terrifying health scare -- a secret she kept hidden from her fans.
Spelling told US magazine that twenty weeks into her pregnancy, she woke up one day and made the frightening discovery that there was blood dripping down her legs. She was taken to a hospital in Los Angeles, where she learned she had a relatively rare condition called placenta previa, in which the placenta covers the opening of the cervix; it's also a condition that can lead to massive internal bleeding.
US reported the condition was most likely linked to the C-sections she had with the other children and that the timing of Finn's conception could also be another possible reason for the complication as Spelling became pregnant again just one month after Hattie was born.
The condition put Spelling at risk for substantial bleeding, which could have forced doctors to terminate the pregnancy and remove her uterus to save her life.
Article continues below advertisement
"It was surreal," Spelling told US. "I just remember thinking, 'I can't leave three children behind.'"
Doctors ordered Spelling to rest in bed for four months. After enduring nine intense bleeding incidents, Finn was born via C-section August 30, 2012 -- 37 weeks into the pregnancy, which is considered normal.
Although little Finn was healthy, three weeks after his birth, Spelling's surgical scar ruptured and she was taken back to the hospital. She had emergency surgery and remained hospitalized for two weeks.