Tori Spelling's Husband: 'I Won't Be Dirt Biking Anymore'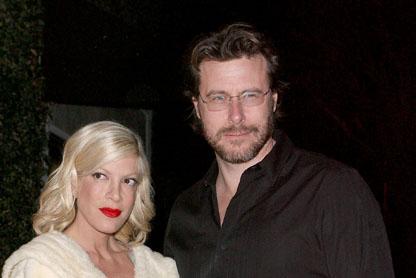 Tori Spelling's husband is out of ICU, RadarOnline.com has learned.
Dean McDermott's dirt bike riding accident Tuesday was definitely a wake-up call for the 43-year-old reality show star and father of two who took to his Twitter page Friday to detail the accident and announced he's giving up the sport for good.
"FYI- Tuesday I went out for a dirt bike ride with my friends, I ended smashing my chest into my bars as I went over the front of the bike," he tweeted.
Article continues below advertisement
"It was a freak accident. We still can't figure out what happened. None the less, I have a collapsed lung and bad bruising on my right side.
"Oh, and 3 stitches in my right butt cheek where a stone got imbedded. Let's just say, I won't be dirt biking anymore."
Dean's passion for motorcycles has been a bone of contention with his wife Tori Spelling for years, often being a much-talked about storyline on the couple's reality show on the Oxygen Network, Tori & Dean: Home Sweet Hollywood.
But now she must be relieved that Dean is out of the ICU and won't be biking ever again. Not only is she taking care of her two little kids, Liam, 3, and Stella, 2, but has a good bedside manner for her hubby-in-need.
"Kids and I are about to go see @deanracer He's been moved from ICU to a regular room! Yay! I'll tell him everyone sends their love!" Tori just Tweeted.
"I said to @deanracer 'Babe do u want anything?' He said 'Oreo McFlurry!' So his spirits are up despite all the pain."