Exclusive
Broke Or A Joke? Tori Spelling Has Millions Of Dollars Worth Of Furniture & Designer Clothing In Storage – But Refuses To Sell!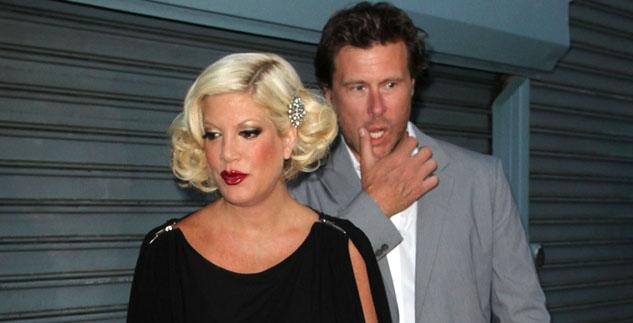 Tori Spelling revealed in her new memoir, Spelling It Like It Is, that she is broke — but RadarOnline.com has exclusively learned that the former 90210 star has millions of dollars worth of furniture and designer clothing in storage, and is refusing to sell.
Mrs. Dean McDermott "has multiple storage units stuffed with furniture, clothing, accessories. These are very large units...Tori has over 20,000 square-feet in her storage units. It's all very well organized, but she refuses to part with any of it," a source told Radar.
Article continues below advertisement
"She could raise hundreds of thousands of dollars if she were to sell just some of the furniture and clothing. Tori is obsessed with her stuff, and does go to the storage facility at least one a month to drop off/pick up various pieces of furniture for her house. There is no reason for Tori to ever buy another piece of furniture ever again....she could fill 10 houses with her stuff."
Raised in the lap of luxury as the daughter to TV mogul Aaron Spelling, Tori had a childhood that most kids would dream of. Now, her own children, Liam, 6, Stella, 5, Hattie, 2, and Finn, 1, are living a reality that is miles away from that pampered, worry-free existence, since she has frittered away her savings and found herself, she admits, in "financial ruin."
Article continues below advertisement
"They didn't incorporate their production company, Life in a Bowl, which makes them personally liable should monetary damages be awarded to the plaintiffs," an insider said.
"So the stakes are now so much higher for them than originally thought."
Renting multiple storage units is also putting a major dent in the reality star's bottom line.
"Tori's storage unit rental is $3,000 a month, which is a huge house payment for most Americans! She just refuses to get rid of anything because she thinks it will be needed down the line. When it comes to her kid's stuff, which also takes up a huge chunk of space, Tori absolutely won't even talk about getting rid of bicycles, or old toys," the source added.
"She says she will hold onto their things to give to them when they are adults for their own families. Tori's life would be so much more simpler if she just truly scaled back."