Exclusive
Tori Spelling's 'Poor Girl' Publicity Campaign Viewed As A 'Win-Win' By Plaintiffs Suing 'Broke' Star For $60M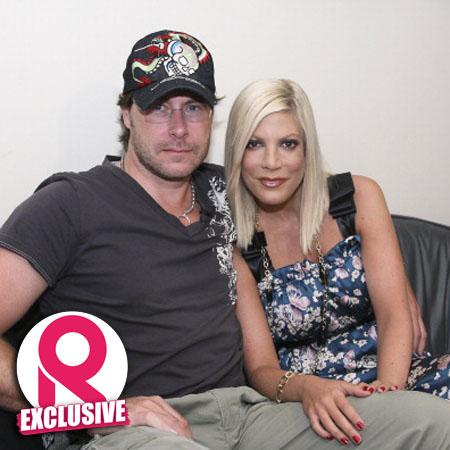 Tori Spelling and hubby Dean McDermott's production company was slapped with a whopping $60 million lawsuit in June, and RadarOnline.com has exclusively learned it could leave the couple in complete financial ruin — despite the 90210 heiress complaining she's already broke.
Spelling and McDermott's company, Life in a Bowl, was named in the multi-million dollar suit for their involvement in the 2011 Oxygen reality series sTORIbook Weddings, which plaintiffs Denny O'Neil Jr., Jake P. Hall and Charles W. Malcolm claim was a theft of their idea.
Article continues below advertisement
The men allege that they came up with a show idea called Wedding Rescue in 2007 that would star Spelling and McDermott, and after their idea was filed with the Writers Guild they pitched it to an Oxygen exec and the couple themselves. All parties passed on the project, but then produced the eerily similar sTORIbook Weddings just four years later.
The plaintiffs are seeking more than $8.5 million for each of the seven of the causes of action — breach of fiduciary duty, breach of implied in fact contract, slander of title, false advertising, unfair business practices and more — plus additional fees and court costs.
"Tori and Dean's public disclosure regarding their lack of financial responsibility is of no concern to the Plaintiffs in this case," a spokesperson for the plaintiffs exclusively told RadarOnline.com.
"That said, the 'poor girl' publicity campaign will certainly sell more books and future royalty payments are favorable should a judgement be awarded at trial. It's a win-win."
As RadarOnline.com previously reported, in Spelling's new memoir, Spelling It Like It Is, Aaron Spelling's daughter claims that when her late (and very rich) father died leaving a $500 million fortune, her motherCandy Spelling only gave her $800,000…which she has quickly blown through.
Article continues below advertisement
"It's no mystery why I have money problems," she writes. "I grew up rich beyond anyone's wildest dreams. I never knew anything else. Even when I try to embrace a simpler lifestyle, I can't seem to let go of my expensive tastes. Even when my tastes aren't fancy, they're still costly. I moved houses to simplify my life, but lost almost a million dollars along the way …"
More trouble for Spelling and McDermott's bank account could be this lawsuit, which RadarOnline.com has learned has all the couple's assets on the line.
"They didn't incorporate their production company, Life in a Bowl, which makes them personally liable should monetary damages be awarded to the plaintiffs," an insider said.
"So the stakes are now so much higher for them than originally thought."
The plaintiffs' rep tells RadarOnline.com they tried unsuccessfully for more than three years to settle the case without filing a lawsuit, to no avail.
"The Defendants had many opportunities to settle this and elected not to," he said.