Exclusive
Tori Spelling Admits 'I'm In Serious Debt': The Poor Little Rich Girl Reveals How She Ended Up In 'Financial Ruin'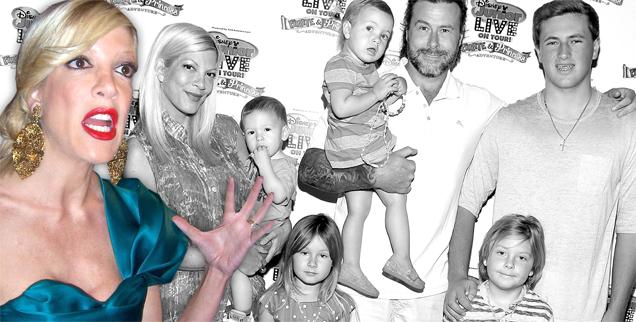 Raised in the lap of luxury as the daughter to TV mogul Aaron Spelling, Tori Spelling,had a childhood that most kids would dream of. Now, her own children, Liam, 6, Stella, 5, Hattie, 2, and Finn, 1, are living a reality that's miles away from that pampered, worry-free existence, since Spelling has frittered away her savings and found herself, she admits, in "financial ruin." The reality TV star describes how she fell so far, so fast, in her new unflinching memoir, Spelling It Like It Is.
Article continues below advertisement
Money first started to bleed out of Spelling and husband Dean McDermott's accounts when she decided to move the family from Encino, Calif., to Malibu on a whim in the fall of 2012. But less than a year later, she wanted out again, and put the Malibu home on the market.
"After selling our Encino house at a loss, we were hoping to make a bit of the money back on Malibu," Spelling writes. "We'd sunk a lot of money into it … But our Malibu house took a few months to sell, and when it did, it was for two hundred thousand dolls less than we had paid. You heard of those people who flip houses to make money? We were the opposite: flippers who lost major sums of money on every transaction. My restlessness would be our financial ruin."
But even as her finances dwindled, Spelling kept living the high-life, renting a "spacious and grand" 9,000 sq. foot home in Westlake Village with a pool, movie theater, "columns throughout the house, a huge chandelier, leaded glass windows, and cold stone floors mixed in with the nice hardwood." Spelling admits, "We couldn't afford to buy a house. Yet now we were living a lie in a grand house."
Before long, however, things got even more complicated when Spelling was hospitalized with a dangerous condition, placenta previa, during her pregnancy with son Finn. Doctors told her she needed to stay closer to the hospital, so her mom, Candy Spelling, broke out the checkbook to help her pay rent on yet another home they couldn't afford.
Article continues below advertisement
"Money was tight," Spelling admits. "I know that sounds odd, coming from a Spelling.."
But when Oxygen cancelled her reality show, Tori & Dean, in 2012, it sent the family's finances further into a tailspin.
"My real estate compulsion had put us in serious debt," she explains. "I'd worked so hard and earned so much, but I had nothing to show for it."
"Once I was Googling myself to find an article I'd heard was published," she writes. "I typed 'tori spelling' into the search field and a bunch of options came up. One of them was "tori spelling net worth." Curious, I clicked on it. Google thought I was worth fifteen million dollars. Fifteen million dollars! I didn't have one million. We had some income here and there, but no savings apart from our retirement accounts."
Explaining that she has a "terrible habit of going into denial" about financial matters, Spelling was forced to confront the severity of her situation . But instead of cutting back, she continued to spend big.
Spelling says, "It's not my fault I'm an uptown girl stuck in a midtown life. I was raised in opulence. My standards are ridiculously high. We can't afford that lifestyle, but when you grow up silver spoon it's hard to go plastic."
Article continues below advertisement
"It's no mystery why I have money problems," she insists. "I grew up rich beyond anyone's wildest dreams. I never knew anything else. Even when I try to embrace a simpler lifestyle, I can't seem to let go of my expensive tastes. Even when my tastes aren't fancy, they're still costly. I moved houses to simplify my life, but lost almost a million dollars along the way …"
In addition to her real estate losses, Spelling suffered a hit when her store, invenTORI, turned out to be a money pit. She also had a bad habit of overspending on over-the-top parties, she claims. Finally, Spelling writes, "was my little shopping problem. I bought ridiculous amounts of stuff for the kids: clothing, toys, crafts. We traveled (and did crazy things like upgrading hotels at my instigation). Yesterday I went into the gas station to get the kids some water and I dropped fifty dollars on some DVDs (they were on sale!), chips, and some lottery tickets."
"I can't afford to live like this anymore," she admits. "Our circumstances have changed. In between the moves, the store, spending a year in and out of the hospital, and Tori & Dean being canceled, our bank account has taken a major hit."
"It's gotten so bad," she writes, "that our money manager is involved in every decision we make." The manager even recently vetoed Dean's plan to get a vasectomy, as RadarOnline.com has reported.
Article continues below advertisement
But why doesn't she just ask her millionaire mom, Candy, for help? Spelling says she already owes her a lot of money. And, she says, she's too proud to accept assistance yet again.
In the midst of their money problems, Spelling and McDermott have had to deal with relationship issues as well. They recently went though "an especially challenging couple of years," Spelling admits, when she felt "he'd checked out of family life."