Exclusive
It's On! Tori Spelling's Hubby Agrees To MMA Fight To Settle Twitter War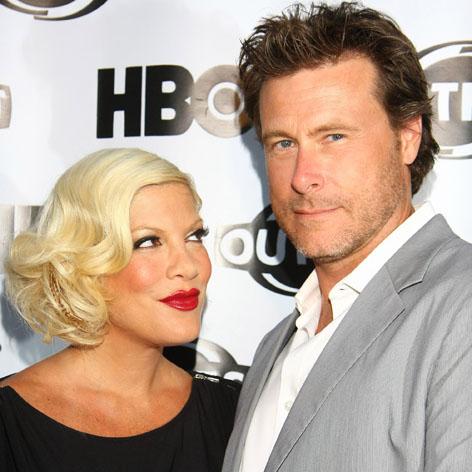 Article continues below advertisement
To make things even more interesting, former MLB bad boy Jose Canseco jumped in on the Twitter antics and will be training Dean for his fight!
"Would love 2 train w/ you. In Toronto right now doing a show," Dean wrote back to Jose over the weekend.
The argument started when Anthony made fun of the tattoo that Dean got for his wife Tori in an intimate spot writing, "Dean got a Tramp Stamp and I tweeted LMAO and he challenged me to a fight. Lets get it on!"
Anthony continued to antagonize Dean online writing things like, "We all know Tori wears the Pants…. Tori do you mind if I knock your husbands block off?"
After going back and forth via Twitter for nearly a week, Dean suggested the two settle it in the ring:
But instead of boxing, Dean suggested MMA (Mixed Martial Arts) and Anthony reluctantly agreed:
"Dean and Anthony are going to fight in one of my Celebrity Boxing events on October 5 in Los Angeles," Damon told RadarOnline.com in an exclusive interview.
"The match will be three, two-minute rounds and will benefit Autism."
How do you think Dean will fare in the ring? Sound off below…