Tori's Baby Is An Internet Star! Spelling Shares First Video Of Finn's Birth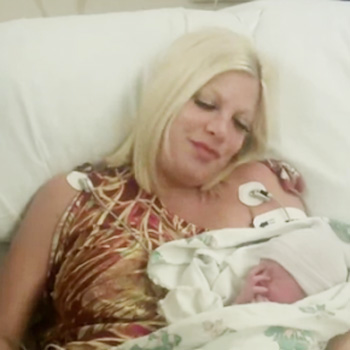 Tori Spelling's frightening birth of her fourth child Finn was an emotional time for her and she shared the video taken just moments after he was born on Tuesday.
"I'm so thrilled that we have these videos from one of the happiest days of our lives," Tori wrote on her blog about Finn's internet debut.
The former 90210 star, 39, and her husband Dean McDermott welcomed the little boy and she reveals for the first time the videos her "gusband" Mehran shot for them.
Article continues below advertisement
"Once I was feeling a little better (was in a lot of pain after the c-section) it was time for me to cuddle with Baby Finn. Mehran captured this video of us together, which is a moment I will never forget."
With a one shoulder top on and full eye makeup, Tori is cradling her newborn infant in her arms in the hospital recovery room.
"Look he's sucking on his fingers!" the proud new mama gushes about the baby.
"The pregnancy with Finn was tough, and the fact that in the end we were able to bring a healthy and happy baby into this world means more to me and Dean than we can ever express," Tori wrote about the happy new addition to her family.
radar_embed service=youtube src="https://www.youtube.com/embed/20YcO0u6oJ0" width="560" height="315"