Bah Humbug! Tori Spelling Cancels Appearance In Christmas Parade At The Last Minute, Leaving Organizers Scrambling For Replacement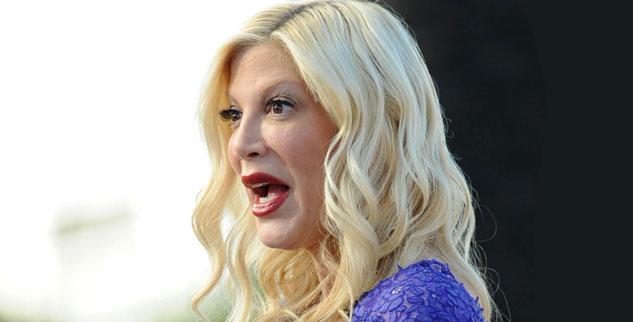 Tori Spelling almost ruined Christmas for Fort Lauderdale when she dropped out as grand marshal of the city's famous boat parade at the last minute, leaving organizers scrambling for a replacement.
"Honestly we don't know why Tori dropped out," the president and CEO of the city's Winterfest, Lisa Scott-Founds, told local media. "We weren't told. They just said she was not able to make it."
Just three days before the parade, which is scheduled for Saturday, organizers announced that they had arranged for comedian Tracy Morgan to step in and fill her shoes.
Article continues below advertisement
"The last-minute change only adds to the considerable burden of putting on an event expected to draw 1 million spectators," reporter Ben Crandell wrote on SouthFlorida.com." …but the trade of whatever lingering glamor Spelling has for Morgan's more recent, Emmy-nominated star power is a coup."
Scott-Founds explained, "Tracy's someone people can relate to. We always try to have a grand marshal that is fun, exciting, someone who will put a happy face on. He appeals to a broad cross-section of the public."
But online, fans seemed to disagree, with one Twitter user calling the choice "random," and another, @abbamaggiebuddy, plaintively asking, "@torianddean what happened to you coming to the Ft. Lauderdale boat parade??"
Spelling has yet to comment, but it's possible she's made other plans. On Thanksgiving, the supposedly "broke" star splashed out $10,000 on a luxurious family getaway to Dana Point, California.