Exclusive
Abandoned By Hollywood: Tori Spelling's Celebrity Pals Boycott Her Children's Birthday Parties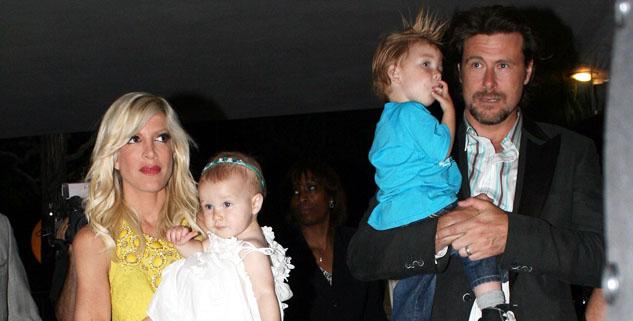 Tori Spelling's Hollywood pals have begun boycotting her children's birthday parties after an incident at a number of the soirees where cameras for her former reality show began rolling without the star-studded guests' prior knowledge, RadarOnline.com has learned.
The stars were surprised when they turned up to the parties at her Hollywood home and were "forced to sign waivers on arrival" — scenes which later aired on her now-defunct Oxygen reality show, Tori & Dean: Home Sweet Hollywood.
Article continues below advertisement
"It's no secret that Tori throws her kids over the top birthday parties. She would invite celebrity friends, like Lisa Rinna, Brooke Burke-Charvet, Ali Landry — even RuPaul — except she wouldn't tell them and other guests that they were filming," one guest revealed.
"When they arrived, before entering their home, they would all be asked to sign release forms for the reality show. Few were given a heads up before the event and they would be blindsided upon arrival."
Added the party-goer, "Tori's celebrity friends thought they were just going to a child's party and didn't expect to be on camera. It just didn't feel like a toddler's birthday party when there were so many cameras present. Naturally, guests couldn't relax and be themselves."
The over-the-top parties were always almost paid for by a sponsor and the stars would be asked to have their picture taken with the product, the insider added.
Article continues below advertisement
"It was just tacky to ask a guest at the party, who happened to be a celebrity, to pose in a staged photo with various products," the source dished.
"In the end, it's no mystery why Tori's parties have been very low on celebrity turnout!"
One source suggested the boycott played a role in Oxygen's decision to cancel the show, which was announced this year.
"It absolutely impacted the decision for Oxygen to cancel her reality show," they said.
"Viewers wanted to see Tori interacting with her celebrity friends and throwing these outlandish parties. If they were not attending, there was much less appeal."
As RadarOnline.com reported, the embattled ex-90210 star was recently hospitalized but was released after being treated.
Whilst one source said she wasn't feeling well, another revealed that she was treated for anxiety that she suffered in the wake of her very public diss of Katie Holmes in her memoir, Spelling It Like It Is.
Article continues below advertisement
Legs of her promotional tour for the tell-all book had to be cancelled after she missed a scheduled flight.
Said a source: "Tori was hospitalized for stress and anxiety for a few days because she was receiving a lot of negative feedback about revelations she made in the book and she had no anticipation that it was going to hit a nerve. Tori didn't think making comments about a chance encounter with Katie Holmes would cause such a ruckus.
"She just grew very anxious about having to defend her actions in the book in media interviews and decided that she needed to go to the hospital."