Tori Spelling Secretly Hospitalized After Fall-Out From Trashing 'Plastic' Katie Holmes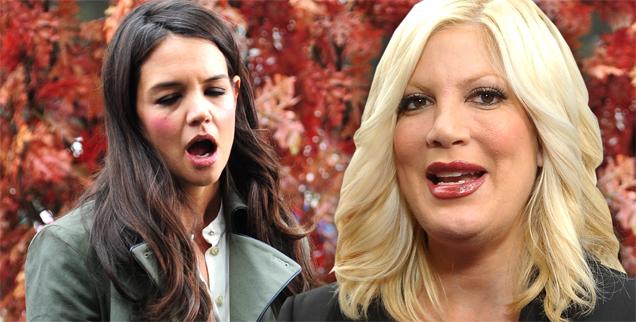 Reality star Tori Spelling was hospitalized last month in the midst of her tour to promote her tell-all book Spelling It Like It Is, RadarOnline.com has learned.
The 40-year-old mother-of-four was treated briefly and released, but legs of her promotional tour had to be cancelled after she missed a scheduled flight.
A source close to ex-90210 star Spelling told Radar that "she just wasn't feeling well and went to the hospital, but everything was fine."
Article continues below advertisement
But a second source explained: "Tori was hospitalized for stress and anxiety for a few days because she was receiving a lot of negative feedback about revelations she made in the book and she had no anticipation that it was going to hit a nerve.
"Tori didn't think making comments about a chance encounter with Katie Holmes would cause such a ruckus.
"She just grew very anxious about having to defend her actions in the book in media interviews and decided that she needed to go to the hospital."
As Radar was first to reveal, in Spelling It Like It Is, Spelling revealed in her memoir that Tom Cruise's was a "robot" during an encounter between the pair.
The two actresses met years ago when Holmes was on Dawson's Creek.
"A friend of mine at the time did a movie with her, Teaching Mrs. Tingle," Spelling explained, noting the group soon decided to get together for drinks at Trader Vic's restaurant and bar in Los Angeles.
Article continues below advertisement
"Dawson's Creek Katie was exactly what you'd expect," Spelling wrote. "She was wearing jeans and a tank top. Her hair was down. She was shy but engaging, and altogether pretty adorable."
Flash forward several years and Spelling was waiting to meet with vocal coach Eric Vetro for her new TV movie, The Mistletones.
She wrote, "As I sat waiting outside his music room, I heard his prior appointment working with him in the other room. It was some actress singing horribly off-key … That made me feel better. I heard him say good-bye and then the actress walked out of the room. It was Katie Holmes."
Holmes stopped to say hello, as Spelling recounted: "I didn't know whether we should hug or shake hands. But the signal from her was immediately clear: Don't even come close. I instantly got nervous. We clearly weren't going to catch up on the last ten years. And we certainly weren't going to talk about her husband, Tom Cruise.
So instead, Spelling said, she pulled out "the mommy card," complimenting Holmes on her daughter, Suri and telling Holmes she had kids her own age.
Article continues below advertisement
Holmes didn't bite, responding "Oh, do you?" claimed Spelling, the daughter of the late, storied film and TV producer Aaron Spelling and his wife, Candy.
"Then I was annoyed," she wrote.
"Come on. Okay, I know your'e busy. But you're in the public eye. Don't tell me you don't follow the tabloids. Don't tell me you don't know anything about other celebrities and their kids."
"Then we stood there," she recalled. "She was just plastic. In a perfectly polite way… My pits were drenched. I never sweat. It was that awkward. I thought, I know you're not a robot because you can't sing for sh*t."
This is not the first time time that Spelling has had a harrowing hospital ordeal: In October last year, she was rushed to a Los Angeles hospital, where she learned she had a condition called placenta previa, in which the placenta covers the opening of the cervix.
"It was surreal," Spelling said at the time. "I just remember thinking, 'I can't leave three children behind.'"