Exclusive
Pinching Pennies! 'Broke' Tori Spelling & Dean McDermott Shopping At Discount Store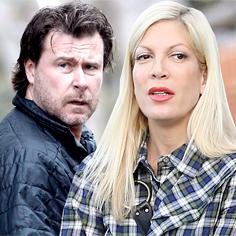 "When you're born with a silver spoon in your mouth, it's hard to go plastic," poor little rich girl Tori Spelling has said. But as her financial difficulties continue to mount with the closure of her store, InvenTori, the admittedly "broke" star just might be dialing back her out-of-control spending, and only RadarOnline.com has all the details of her new discount shopping spot!
Spelling's husband Dean McDermott was spotted picking up groceries for the family on March 7 at Smart and Final, a discount warehouse chain in L.A. As he rolled a cart full of toilet paper, bread, and other groceries out to his car through the crowded parking lot, "He looked miserable," an onlooker who contacted RadarOnline.com reveals.
Article continues below advertisement
In the past, Spelling was usually spotted shopping at chi-chi celeb-friendly grocery store Gelson's Market, or the expensive Malibu farmer's market, but perhaps those days are over for her family.
That's not the only way her retail habits have changed. As RadarOnline.com has reported, Spelling recently closed the doors to her Sherman Oaks store InvenTori, insisting that she would reopen in another as-yet unnamed location.
Last fall, she opened up for the first time about her financial difficulties in her book, Spelling It Like It Is, writing, "I can't afford to live like this anymore. Our circumstances have changed … our bank account has taken a major hit."
Spelling says real estate missteps took a chunk out of her change. She and McDermott were also served with an order to "pay or quit" their home in January, but they insisted it was a misunderstanding.