Exclusive
'Broke' Tori Spelling Has Three Nannies For Four Kids! | Radar Online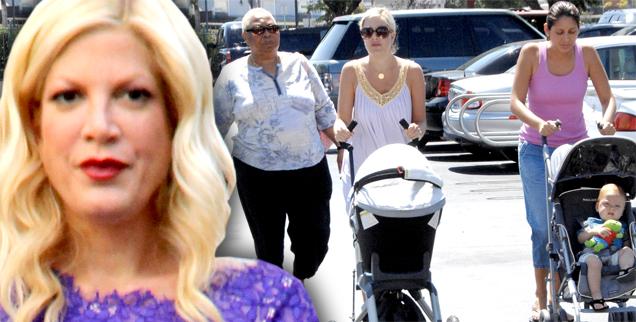 Article continues below advertisement
That constitutes a nearly 1:1 adult to child ratio in her house, which includes Liam, 6, Stella, 5, Hattie, 2, and Finn, 1.
In all, it doesn't exactly reflect the destitution and "financial ruin" that Spelling has claimed is her new reality.
"I can't afford to live like this anymore," she wrote in her memoir, Spelling It Like It Is, which was released this fall. "Our circumstances have changed … our bank account has taken a major hit."
And while the daughter of Hollywood honcho Aaron Spelling admits that getting to this point has been largely her fault, explaining "when you grow up with a silver spoon in your mouth, it's hard to go plastic," sources tell RadarOnline.com that she's sitting on millions of dollars of assets she refuses to part with.
Tori "has multiple storage units stuffed with furniture, clothing, accessories … over 20,000 square feet," a source said. "It's all very well-organized but she refuses to part with any of it. She could raise hundreds of thousands of dollars if she were to sell just some of it."