We're A Happy Family... But Where's Dad? Tori Spelling Puts The Ring Back On To Go Shopping With Kids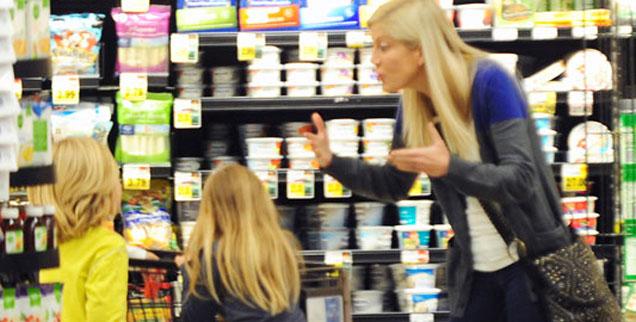 Tori Spelling is continuing to put on a brave face after her husband was reportedly caught cheating on her just days before Christmas, and now RadarOnline.com has photos of her with her wedding ring back on but still no sign of her hubby Dean McDermott.
Spelling prominently displayed her wedding ring on her left hand as she pushed a cart through the grocery store with her two older children, Liam and Stella, but McDermott was nowhere to be found.
Article continues below advertisement
She posted a cheerful family photo with McDermott and their two older children on January 1, completely ignoring the cheating report.
"Happy New Year everyone! I can NOT believe it's 2014. Time flies when you're having fun… and when you have 4 little ones running around! We rang in the New Year with (kid-friendly) cocktails, lots of yummy treats and some quality family time."
As Radar has previously reported, Spelling has no plans to address the cheating report, but she does believe the report about her husband and the other woman.