Tori Spelling Breaks Her Silence On Love Rat Hubby Dean McDermott's Cheating Scandal: 'He Completely Broke My Heart'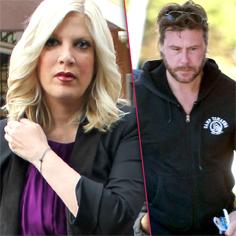 After four months of silence, jilted wife Tori Spelling is finally opening up about her love rat husband Dean McDermott's infidelity, declaring that "he completely broke my heart."
Spelling, 40, said she initially brushed off the report that McDermott, 47, had cheated with a 28-year-old woman in Toronto just days before Christmas 2013, saying: "I really believed it was just another one of those stories. And he denied it."
Article continues below advertisement
However, the next week she confronted her husband of seven years again. "He was very nervous— I saw it in his face," the star told Us Weekly. "He said that they had kissed but that was it. I knew in that moment the worst had happened."
The next morning, after taking "full responsibility" for sleeping with Canadian beauty Emily Goodhand, the actor headed to treatment for unspecified issues.
Now that he's out of rehab, Spelling reveals her relationship is still in complete disarray. "I don't know if my marriage can be saved," she admits. "He was my soulmate, but he completely broke my heart. It makes you not trust anything that's happened in your relationship."
The heartbroken Spelling— who says she hasn't had sex with her husband since December— confesses that McDermott still lives in their L.A. home "because there are children involved. For their sakes, I need to try to figure this out." (The couple are parents to Liam, 7, Stella, 5, Hattie, 2, and Finn, 20 months.)
Though she hasn't made any decisions, Spelling is staying strong. "Whichever way my marriage goes, I finally have my voice back and can be honest," she says.