Exclusive
Brotherly Love: Randy Spelling Opens Up About Coaching His Big Sis Through Cheating Crisis: 'I Always Help Her'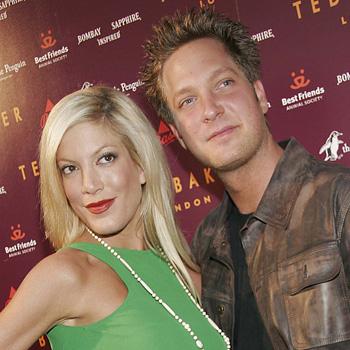 Tori Spelling's decision to reveal the most personal details behind her marriage meltdown with husband Dean McDermott on national television may seem shocking, but not to her brother, who – unlike her husband – won't stray from her side.In an exclusive interview with RadarOnline.com, Randy Spelling shared how he's helping his big sister through the most difficult time of her life — and what he really thinks of her decision to live it out on TV.
Article continues below advertisement
"I do support her through this. I always help her, she's my sister, so I'll be there in any way I can," Randy told Radar.
The 35-year-old former actor, whose father was television mega-producer Aaron Spelling, has turned his life around after battling addiction and lives in Portland, Oregon, where he has found a new calling as a life coach. He and his wife Leah's business, Being In Flow, offers couples, addiction, and spiritual coaching – expertise that has come in handy as his sister has exposed the ugly aftermath of McDermott's cheating scandal that landed him in rehab in her new docu-series, True Tori.
"The truth is it's a private matter and however Tori wants to handle it is up to her and whatever support I give her is behind the scenes," he said.
Tori, however, has been very public about what led her husband to have an affair with 28-year-old Emily Goodhand, whom he slept with while he was in Toronto filming Chopped Canada.
McDermott has since indirectly blamed his wife for his wandering eye because of their dwindling sex life and his "insatiable" desire for more.
Article continues below advertisement
Although unconventional in Hollywood, Randy commends his sibling's honest choice to come clean about the dark side of her marriage.
"If this is how she has decided to deal with it, I have to honor that decision she's making," said Randy, the father of two daughters, Sage, 3, and Lotus, 1. "And I have to think it's something she gave a lot of thought and consideration about and that maybe she felt it was cathartic to her and a way where she can help other people who are going through the same thing."
Spelling and McDermott met while shooting the TV movie Mind Over Murder in Ottawa back in 2005, when he was married to Mary Jo Eustace and she was married to Charlie Shanian. Nine years later, they have four kids, Liam, 7, Stella, 5, Hattie, 2, and Finn, 20 months.
"He was my soulmate, but he completely broke my heart," the Beverly Hills, 90210 alum recently told Us Weekly of the cheating scandal. "I feel so judged, but it's not black and white."