Tori's Worst Nightmare: Spelling's Mom Candy Reveals Their 'Excruciating' Relationship In New Tell All, Slams 'Stop Blaming Your Parents!'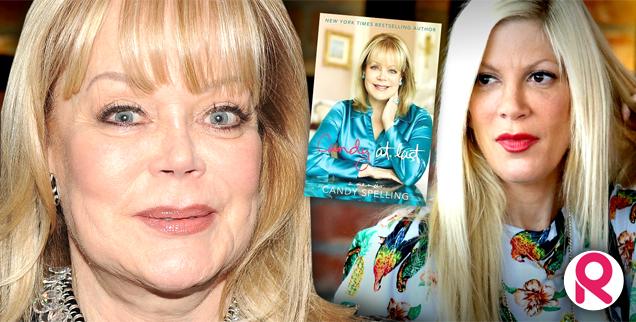 Dean McDermott isn't the only person making Tori Spelling's life a living hell these days. As her marriage crumbles and her TV show tanks, the reality star's mom, Candy Spelling, is reigniting their long-running feud in an explosive new tell-all, Candy at Last — and only RadarOnline.com has all the details!
"I am by no means saying that I am the perfect mother now or I didn't make mistakes when my children were growing up," Candy writes in the bombshell book. "…Having said that, I also believe that there comes a time when you have to stop blaming your parents. Take responsibility for your own actions and attitudes …"
Article continues below advertisement
And speaking of Tori's actions, Candy spends plenty of time rehashing her daughter's affair with McDermott in the memoir, as the Tori, 40, and McDermott, 47, deal with his latest infidelity on True Tori.
Recalling the period when Tori hooked up with McDermott, Candy writes, "Our daughter, Tori, had been incommunicado since an abrupt divorce from her husband, Charlie Shanian. … Her fatherAaron was disappointed about her divorce, and since then, she had refused to speak to any of us on the phone. Not even her little brother Randy."
"I was devastated about Tori and Aaron was angry," she reveals. "He left her numerous messages on her cell phone. I tried reaching her as well. Not surprisingly, we didn't hear back from her."
The next time Candy saw her daughter was at Aaron's funeral in late June 2006.
"Tori and Dean walked into Aaron's service and took seats in the back row," she remembers. "It was very emotional because I didn't know if she was going to show up. This was my first time seeing my new son-in-law Dean. A friend of mine couldn't bear the awkwardness. 'This isn't right,' he said."
Article continues below advertisement
And after another "uncomfortable" run-in following the funeral, Candy, 68, writes, things only got icier as their family drama got splashed across the tabloids.
"It was hard not to take what was being written personally," she insists. "…With time I've come to understand it better. Tori really is so much like her father. She is very talented and has the ability to capture the attention and imagination of the American public with her storytelling."
Despite that awareness, Candy says, "During the year we were estranged, it was excruciating not hearing from Tori and not being able to get ahold of her."
But just as soon as the feud began, it was finished when Tori gave birth to her first child, Liam, in 2007. "We have never discussed that painful period in our lives when we didn't speak," Candy admits. "We just tried carefully to move past it. I like to think that it was her pregnancy that paved the way for us to resolve our issues."
Article continues below advertisement
Nevertheless, it hasn't been happily ever after. Candy says she's realized "when I denied Tori an extravagant purchase, it resulted in radio silence."
"Tori and I are a work in progress and probably always will be," she writes. "I notice that the more my self-esteem expands, the less patience I have for the pursuit cycle she creates when she shuts me out. We have a pattern, and until we can break it hand in hand, this is going to be the little dance she and I do together."
Are you Team Tori or Team Candy? Let us know in the comments!