Candy Spelling Admits 'It's Painful' To Watch Tori Struggle With Cheating Husband On Reality Show, Opens Up About Her Sex Life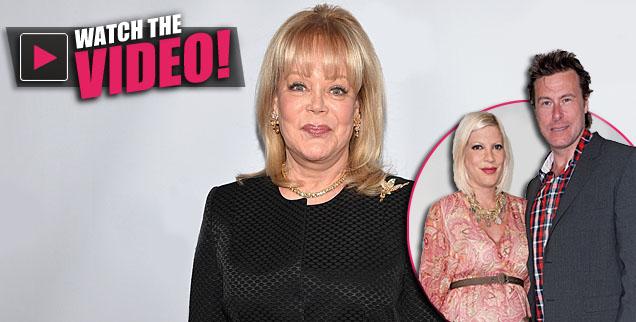 Article continues below advertisement
"I think that they feel that they need to share it with the audience," Candy said of the show.
"Tori has always, always, loved…she's broken that wall of, this is my reality audience and I want to share it with them."
When asked whether or not she agrees with her daughter making her private life so public, Candy revealed she's okay with it because of Tori's success.
"As a mom, you don't want to see your children hurt in any way and I have to say that it's painful for me to watch it," she said.
"She does those things and she's been very successful at it. You can't argue with success."
Visit NBCNews.com for breaking news, world news, and news about the economy
As for jumping back in the dating pool since her husband's 2006 death, Candy said there was a lot she had to learn!
"A girlfriend of mine, her 27-year-old daughter had 'the talk' with me and the talk was about, it's different than when you were dating. The birds and the bees…I know now if I'm going to be intimate with a man or if I'm going to have sex I have to have protected sex, I have to have a complete medical record," she shared.
"I want to see a recent medical record and it happened. The first time I said this to someone they were like, 'You're kidding me, right?'"
And she even admitted to calling her son Randy while shopping for condoms in the drug store.
"I was in the condom aisle and I have to tell you, I never saw such a selection in my life."