'Tori Deserves Me To Die': Suicide Shocker As Tori Spelling's Cheating Husband Dean McDermott Reveals He Thought About Jumping Out Of A Window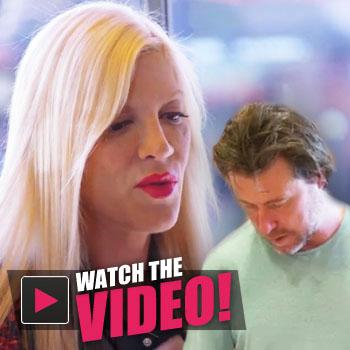 Tori Spelling's husband Dean McDermott admitted on Tuesday's episode of True Tori that he considered suicide during their marriage crisis caused by his infidelities.
On the explosive Lifetime reality show, McDermott told the couple's therapist that he thought about jumping out the window of her office during a nervous breakdown. But instead, he went into an unidentified treatment facility to deal with his alcoholism and addiction issues.
Article continues below advertisement
Spelling, 40, and McDermott, 47, have been wrestling for months with the fallout from his two-day affair with Emily Goodhand in December, which made tabloid headlines.
On True Tori, viewers saw Spelling and McDermott meet with Dr. Ann Wexler before he came home from treatment. He admitted to having suicidal thoughts when he'd previously been in her office.
"We're sitting here in the room where I had my breakdown," McDermott said. "I've been looking at that crack in the window. I remember looking at that crack and while we were waiting for the EMTs, I was thinking, I've got a window of opportunity here to kick that out -- 'cause it's already broken -- and just dive out of it.
"I didn't do it but I mention it to show how far I'd gone down the rabbit hole -- and that the only way out was for me to leave this earth."
He confided to Spelling and Dr. Wexler, "The days leading up to my breakdown, I wanted to disappear. I just thought, this is it. You can't get out of this. I just thought Tori deserves me to die. And I sit here today looking at the crack in the window and I know I will not take my life."
Article continues below advertisement
McDermott said he'd undergone a huge transformation: "My life means a lot to me now where it didn't for so many years. I'm getting the help I need and I'm surrounded by love and support. That's what's going to keep me alive … I deserve to live."
Dr. Wexler said it was huge moment and she excused herself to talk to producers. Viewers then learned it was not the show's plan to reveal McDermott's suicidal feelings.
"Are you okay talking about that on camera?" Spelling asked her husband.
"I'm being honest," McDermott said. "That's the whole reason I agreed to do this. I want people to know if they're feeling like this, they don't have to take their life."
However, Spelling didn't want McDermott to feel pressured to expose himself that way.
"You can't understand what I went through that day," she said, breaking into tears. "Someone cheating on you, it's nothing in the whole perspective, hearing all of a sudden your husband was going to take his life that night … that was not something I thought needed to be addressed or talked about because it is so f*cking scary."
Article continues below advertisement
The couple talked to the show's producer about McDermott's revelation. Ultimately, viewers learned McDermott had seen a psychologist who gave the okay for filming to go on.
Spelling said of the fact that her husband wanted to take his own life, "As long as he's comfortable sharing it, then I am as well."
Before revealing his suicidal thoughts, McDermott had also told Dr. Wexler, "I'm scared to hear Tori's true feelings toward me. I'm so full of self-loathing to begin with and now I did what I did. Inside, I feel like a rotten twisted tree where all the leaves are dead off it."
The former Beverly Hills 90210 star said that made her shut down and not want to discuss their problems, telling the therapist, "I can't express myself because it's going to make him worse."
But McDermott insisted they would have to work through her anger so they could heal.
Spelling revealed to viewers that after she found out about the affair — and he had his nervous breakdown — she's had to tip-toe around him despite her rancor with the situation.
Article continues below advertisement
"I don't want to send him spiraling," she said, "so I'm scared to tell him how angry I am."
McDermott, however, said he now has the tools to deal with it and can go to support group meetings.
On the Tuesday episode, viewers also saw how before his 7th birthday party, their son Liam was struggling with his dad's absence from their home.
"He blames me for Dean being away," Spelling sighed.
Liam had a meltdown in a party store because he felt she wasn't letting him choose what he wanted his birthday bash.
"I'm not going to calm down. I'm mad at you," the boy growled before they patched things up with Spelling insisting he apologize.
Also, Spelling met separately with Dr. Wexler, who told her bluntly, "You have loved him for years and he slept with another woman."
Because both of them had cheated on their respective spouses with each other before getting married, Spelling admitted she knew she'd have to keep an eye on the actor.
Article continues below advertisement
Of those who say she's getting what she deserved, Spelling conceded, "Maybe they're right."
But Spelling culled some comfort from a group of friends over coffee, where they even discussed how McDermott's fling Goodhand claimed he had shown her a sex tape of himself with Spelling.
"He says he didn't do that — he says there's pieces in that story that aren't true," Spelling told the gals.
youtube=https://www.youtube.com/watch?v=zli527-8ZyY&w=560&h=315
However, the tape itself DID exist, as Spelling revealed three years ago on Valentine's day Dean told her they should videotape their encounter, saying, "Let's turn it on while we have sex."
She recalled, "He kept it on his lap top all these years," as they all laughed that he should have erased it!
At the end of the episode, McDermott moved back in with the family as their four kids Liam, Stella, 5, Hattie, 2, and Finn, 18 months, rejoiced.
Article continues below advertisement
But the reality TV mom was scared and knew it wasn't going to be easy.
McDermott said they'd never talked about sleeping arrangements and he knew she might have a bad reaction to him being in the same room!
Spelling agreed that it might be better if he stayed in a different bedroom.
After Liam's birthday party, McDermott hung out in the Moon Bounce, where Liam joined him. He told Spelling she was beautiful and added, "I forgot one other thing: I love you."
Spelling just stared at her husband and didn't return the sentiment.
She admitted to the cameras, "I can't forget about what happened and the resentment and anger takes over. I don't know if love's enough."
If you, or anyone you know, is struggling with thoughts of suicide, please immediately seek help. You can speak with a skilled, trained counselor at a national Suicide Prevention Lifeline crisis center in your area, anytime 24/7 — call 1-800-273-TALK (8255).