Exclusive
The Show Must Go On! Dean McDermott 'Disappointed' That Tori Spelling Forced Him To Film Reality Show On Their Wedding Anniversary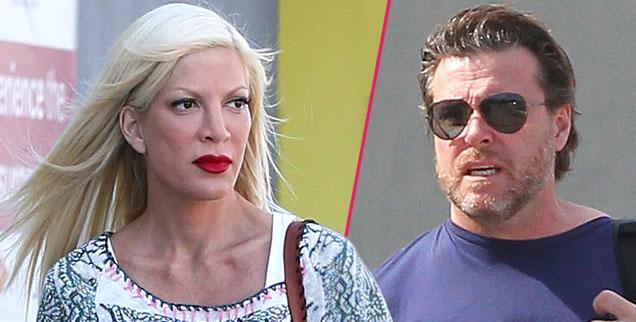 Happy anniversary? Tori Spelling and her husband, Dean McDermott, celebrated eight years married on May 7 with each other – and a film crew. Reality TV has become a way of life for the pair, but RadarOnline.com has exclusively learned that McDermott was upset that his wife wanted to film True Tori on their special day – especially in light of their recent struggles.
"Dean just wanted to take a break from the filming for one day, especially on their wedding anniversary," a source told Radar. "He begged Tori to not allow film crews to film them on their anniversary, but she said it had to proceed, that they had commitments. To say he was disappointed is an understatement."
Article continues below advertisement
The source continued, "Dean can't wait for the filming to be finished. He feels that the true healing really can't begin until the show is over."
Indeed, it's been a rocky road – to say the least – as the couple has confronted McDermott's cheating and alcoholism on the Lifetime docudrama.
Most recently, Spelling claimed on the show that their marriage took a turn for the worse when they started having kids — because McDermott wasn't getting enough attention.
Spelling's husband has freely admitted he cheated on her, but seemed to try to excuse away the infidelity by claiming their sex life was lacking during therapy sessions seen on the show. In addition, he claimed he has an "insatiable" appetite for the opposite sex.
The mind-blowing admission took place during an explosive session with their marriage therapist, in which they explored why he cheated on her and whether their marriage could be salvaged.
Article continues below advertisement
"We have four kids, so in the sex department there were ebbs and flows. Is that safe to say?" McDermott said, looking at his wife.
"We had a great relationship, and we had a great sex life," Spelling battled back.
"We had sex once every two weeks," he countered. "It wasn't fantastic."
Spelling gasped in frustration, but McDermott seemed utterly lost, asking, "What? What did I say?"
"Dean, your expectations of what a marriage is supposed to be like sexually, it's like a fairytale," the therapist said.
Earlier this week, McDermott, 47, was spotted buying lingerie at Victoria's Secret – presumably for an anniversary present for Spelling.
But with a camera crew in tow, it's unclear how intimate the couple was able to get.